ShowMe Weather
August 11th 2021 by Dee Loflin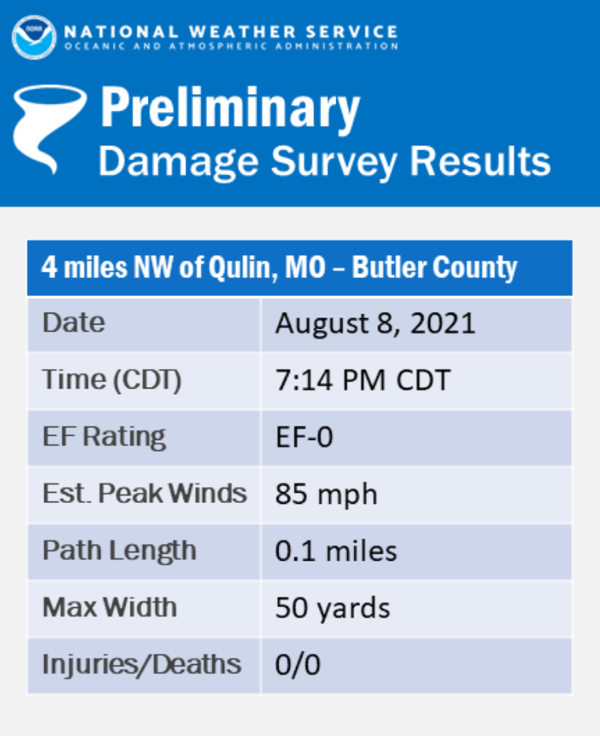 From the National Weather Service in Paducah, KY states a brief EF-0 Tornado touched down 4 miles northwest of Qulin in Butler County on Sunday evening around 7:15 p.m.. This is the same cell that passed between Malden and Bernie.
Below is the report from the National Weather Service:
...NWS DAMAGE SURVEY FOR 08/08/21 TORNADO EVENT...
.OVERVIEW...A BRIEF EF-0 TORNADO TOUCHED DOWN 4 MILES NORTHWEST OF
QULIN IN BUTLER COUNTY MISSOURI.
.TORNADO NORTHWEST OF QULIN...
RATING: EF-0
ESTIMATED PEAK WIND: 85 MPH
PATH LENGTH/STATUTE/:0.1 MILES
PATH WIDTH/MAXIMUM/: 50 YARDS
FATALITIES: 0
INJURIES: 0
START DATE: AUG 8 2021
START TIME: 7:14 PM CDT
START LOCATION: 4.3 MI NW OF QULIN, MISSOURI
START LAT/LON: 36.64 / -90.3016
END DATE: AUG 8 2021
END TIME: 7:14 PM CDT
END LOCATION: 4.3 MI NW OF QULIN, MISSOURI
END LAT/LON: 36.6404 / -90.3001
SURVEY SUMMARY:
A BRIEF TORNADO TOUCHED DOWN AT A RESIDENCE ALONG HIGHWAY 53 TO THE NORTHWEST OF QULIN, MO. IT LIFTED THE FRONT PORCH ROOF COVERING UP AND OVER THE HOUSE, CAUSING DAMAGE TO THE BACKSIDE OF THE ROOF BEFORE LANDING IN THE BACKYARD. A FEW TREES WERE SNAPPED ON THE PROPERTY AS WELL.
EF SCALE: THE ENHANCED FUJITA SCALE CLASSIFIES TORNADOES INTO THE FOLLOWING CATEGORIES.
EF0...WEAK......65 TO 85 MPH
EF1...WEAK......86 TO 110 MPH
EF2...STRONG....111 TO 135 MPH
EF3...STRONG....136 TO 165 MPH
EF4...VIOLENT...166 TO 200 MPH
EF5...VIOLENT...>200 MPH
NOTE:
THE INFORMATION IN THIS STATEMENT IS PRELIMINARY AND SUBJECT TO CHANGE PENDING FINAL REVIEW OF THE EVENT AND PUBLICATION IN NWS STORM DATA.
Last Updated on August 11th 2021 by Dee Loflin
https://showmetimes.com/Blogpost/vft1/Sundays-Weather-Event-Included-an-EF0-Tornado-Near-Qulin