ShowMe Weather
March 07th 2017 by Dee Loflin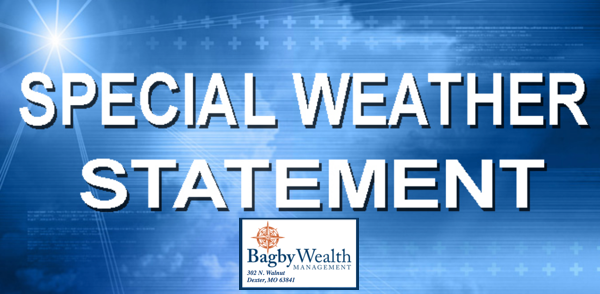 Stoddard County, Missouri - Weather Update at 12:51 a.m. The National Weather Service in Paducah, KY has issued a Special Weather Statement for Stoddard County, Missouri.

SPECIAL WEATHER STATEMENT UNTIL 5AM CST TUE
...STRONG WINDS WILL CONTINUE OVERNIGHT
... VERY STRONG WINDS 20 TO 30 MPH WITH GUSTS 40 TO 55 MPH WILL CONTINUE ACROSS PORTIONS OF THE AREA, AT TIMES, THROUGH THE OVERNIGHT.
IF YOU ARE TRAVELING TONIGHT, BE PREPARED FOR GUSTY WINDS THAT MAY CAUSE ISSUES CONTROLLING YOUR VEHICLE.
THESE WINDS MAY DOWN BRANCHES AND SOME TREES WEAKENED BY STORMS EARLY LAST WEEK.
IF THESE BRANCHES FALL ON POWER LINES, THIS MAY ALSO CAUSE SOME POWER OUTAGES.

Last Updated on March 07th 2017 by Dee Loflin
https://showmetimes.com/Blogpost/v6u8/Special-Weather-Statement-Issued-at-1251-am-for-Stoddard-County