ShowMe Weather
August 05th 2016 by Dee Loflin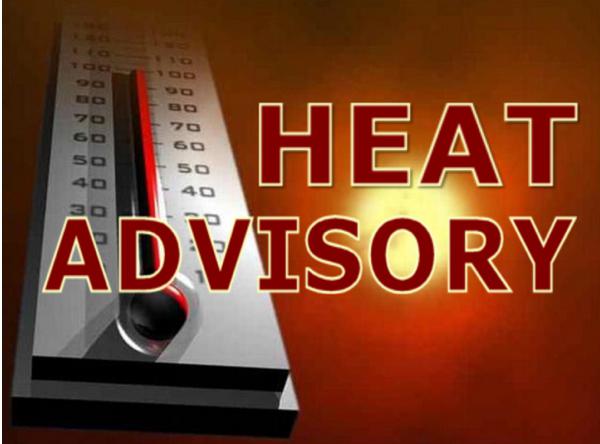 Stoddard County, Missouri - The National Weather Service in Paducah, Kentucky has issued a HEAT ADVISORY!

HEAT ADVISORY UNTIL 8PM CDT FRI
* TEMPERATURES/HEAT INDEX... TEMPERATURES CLIMBING INTO THE LOWER TO MID 90 COMBINED WITH VERY HUMID CONDITIONS WILL LEAD TO HEAT INDICES FROM 105 TO 108 THIS AFTERNOON OVER MOST OF SOUTHEAST MISSOURI... FAR SOUTHERN ILLINOIS... AND FAR WESTERN KENTUCKY.
* IMPACTS... A HEAT INDEX OF 105 DEGREES IS CONSIDERED THE LEVEL AT WHICH THE BODY BECOMES MORE SUSCEPTIBLE TO THE HEAT. TAKE EXTRA PRECAUTIONS... IF YOU WORK OR SPEND TIME OUTSIDE. WHEN POSSIBLE... RESCHEDULE STRENUOUS ACTIVITIES TO EARLY MORNING OR EVENING. DRINK PLENTY OF FLUIDS. LEAVING A PERSON OR PET IN AN ENCLOSED VEHICLE FOR EVEN A SHORT TIME CAN BE DEADLY. A HEAT ADVISORY MEANS THAT A PERIOD OF HOT TEMPERATURES IS EXPECTED. THE COMBINATION OF HOT TEMPERATURES AND HIGH HUMIDITY WILL COMBINE TO CREATE A SITUATION IN WHICH HEAT ILLNESSES ARE POSSIBLE. DRINK PLENTY OF FLUIDS... STAY IN AN AIR-CONDITIONED ROOM... STAY OUT OF THE SUN... AND CHECK UP ON RELATIVES AND NEIGHBORS. MAKE SURE OUTDOOR PETS HAVE PLENTY OF FRESH WATER.
Last Updated on August 05th 2016 by Dee Loflin
https://showmetimes.com/Blogpost/v559/Heat-Advisory-Issued--Heat-Index-Could-Reach-108