ShowMe Weather
July 16th 2016 by Dee Loflin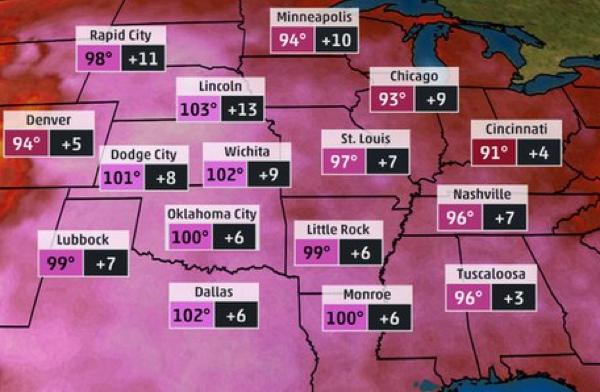 Stoddard County, Missouri - A dome of high pressure will expand across the nation next week. Hot temperatures and dangerous heat indices will be expected.

Beginning Sunday, July 27, 2016 the temperatures will be in the mid to upper 90s with heat index over 100 degrees. Lows will only drop to the mid to upper 70s with humidity just under 70%.

Since June, many regions of the U.S. have experienced periods of hot temperatures, but most heat waves have been relatively short-lived. That will all change next week as a dome of high pressure builds in the upper atmosphere, providing favorable conditions for expanding heat across much of the nation.

By Thursday, summer heat will be the dominant weather theme as temperatures really soar. We are going to be sweating next week, no way to get around it SUMMER is here! Don't be surprised if there will be Heat Advisory Statements issued by the National Weather Service. Also remember to check on elderly or those without air conditioning. Pets should have plenty of shade and water throughout the day and if on concrete remember it gets very hot on their foot pads.

Last Updated on July 16th 2016 by Dee Loflin
https://showmetimes.com/Blogpost/v510/No-Escaping-the-Heat-Next-Week