ShowMe Weather
February 02nd 2016 by Dee Loflin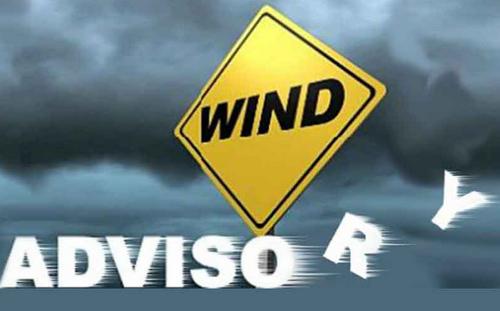 Stoddard County, Missouri - The National Weather Service in Paducah, Kentucky has issued a Wind Advisory for Stoddard County until midnight tonight.

... WIND ADVISORY REMAINS IN EFFECT FROM 6 AM THIS MORNING TO MIDNIGHT CST TONIGHT...

* SOUTHERLY WINDS WILL PICK UP DRAMATICALLY TODAY... GUSTING 35 TO 45 MPH AT TIMES. THE STRONG AND GUSTY WINDS WILL CONTINUE INTO THE EVENING... ESPECIALLY ALONG AND EAST OF THE MISSISSIPPI RIVER.

* OPERATORS OF SMALL WATERCRAFT SHOULD EXERCISE EXTREME CAUTION DUE TO WHITE CAPPING CONDITIONS. IN ADDITION... DRIVERS OF HIGH PROFILE VEHICLES SHOULD ALSO EXERCISE CAUTION... ESPECIALLY THOSE TRAVELING ON EAST/WEST ORIENTED ROADWAYS. THE WIND GUSTS SHOULD SUBSIDE SOME LATER TUESDAY NIGHT.

PRECAUTIONARY/PREPAREDNESS ACTIONS...

A WIND ADVISORY IS ISSUED WHEN SUSTAINED WINDS ARE EXPECTED TO REACH 30 MPH OR GREATER FOR LONGER THAN ONE HOUR... OR WIND GUSTS ARE EXPECTED TO REACH 45 MPH FOR ANY DURATION.

More Information

... BRISK SOUTHERLY WIND GUSTS ARE EXPECTED TO DEVELOP ALONG AND AHEAD OF THUNDERSTORM ACTIVITY TODAY AND INTO THIS EVENING...

.WIND GUSTS BETWEEN 35 AND 45 MPH WILL DEVELOP IN ADVANCE OF AN INTENSE LOW PRESSURE SYSTEM IN THE MIDWEST TODAY. THE STRONG WINDS WILL START OUT NEAR THE MISSOURI BOOTHEEL THIS MORNING, EXPANDING TO ACROSS SOUTHERN ILLINOIS AND SOUTHWEST INDIANA DURING THE MIDDLE OF THE DAY, GRADUALLY WORKING ACROSS WEST KENTUCKY THROUGH THE EVENING. STRONGER WIND GUSTS WILL BE LIKELY IN AND NEAR THUNDERSTORM ACTIVITY TODAY.


Last Updated on February 02nd 2016 by Dee Loflin
https://showmetimes.com/Blogpost/v3i5/Wind-Advisory-Issued-for-Stoddard-County