ShowMe Weather
July 12th 2015 by Dee Loflin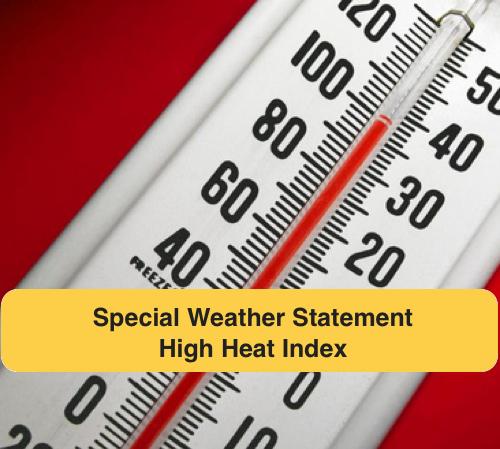 Stoddard County, Missouri -
The National Weather Service in Paducah, Kentucky has issued a Special Weather Statement regarding high heat index.
... HEAT INDICES FROM 100 TO 105 EXPECTED THIS AFTERNOON AND EARLY EVENING...
FOR THOSE THAT ARE CONSIDERING OUTDOOR ACTIVITIES OR MUST WORK OUTDOORS THIS AFTERNOON AND INTO THE EARLY EVENING... BE AWARE THAT HEAT INDEX VALUES WILL LIKELY REACH OR EXCEED 100 DEGREES BETWEEN NOON AND 6 PM TODAY.
GIVEN THE RECENT COOLER WEATHER... YOU MAY NOT BE ACCUSTOMED TO THE HIGHER OUTDOOR TEMPERATURES IN THE LOWER HALF OF THE 90S. THESE TEMPERATURES... COMBINED WITH THE OPPRESSIVE HUMIDITY... WILL PRODUCE HEAT INDEX VALUES BETWEEN 100 AND 105 DEGREES THIS AFTERNOON. THE LACK OF STRONGER SOUTHERLY WINDS WILL LESSEN THE ABILITY TO PULL HEAT AWAY FROM YOUR BODY AS WELL.
BE SURE TO PACE YOUR PHYSICAL ACTIVITY... DRINK PLENTY OF WATER... AND SEEK SHADE WHEN POSSIBLE FROM THE MIDDLE OF THE AFTERNOON THROUGH SUNSET. AVOID BECOMING A VICTIM OF HEAT EXHAUSTION OR HEAT STROKE.
Last Updated on July 12th 2015 by Dee Loflin
https://showmetimes.com/Blogpost/uubd/Another-Hot-Day-in-Stoddard-County