ShowMe Weather
July 17th 2014 by Dee Loflin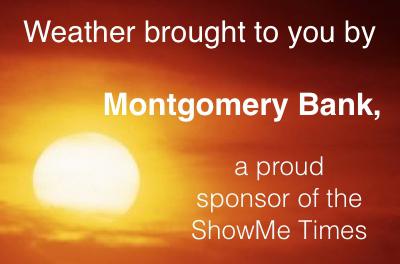 Thursday, July 17, 2014

Weather brought to you by Montgomery Bank, a proud sponsor of the ShowMe Times.
Partly cloudy with temperatures rising towards the upper 70s. This afternoon will be a mix of clouds and sun with more clouds developing late. High 79F. Winds light and variable.
Sunset 8:17 p.m. Tonight cloudy with a low of 64F.
Humidity will be lower than normal at 54% Chance of rain 10%.
Last Updated on July 17th 2014 by Dee Loflin
https://showmetimes.com/Blogpost/urcu/Weather-for-Thursday-July-17-2014