ShowMe Weather
July 13th 2014 by Dee Loflin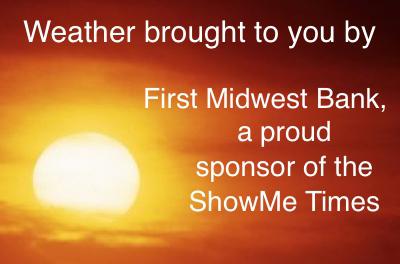 Sunday, July 13, 2014

Weather brought to you by First Midwest Bank of Dexter, a proud sponsor of the ShowMe Times.
Mostly clear in the morning with temperatures steady in the upper 70s.
The afternoon will see temperatures climbing to 95F with partly cloudy skies.

Possible stray afternoon thunderstorm is possible. Winds SW at 10 to 15 mph.
Sunset 8:19 p.m.

Tonight scattered thunderstorms especially overnight. Low 74F. Winds WNW at 5 to 10 mph.

Chance of rain 40%. Moon will be full!
Last Updated on July 13th 2014 by Dee Loflin
https://showmetimes.com/Blogpost/urc5/Weather-for-Sunday-July-13-2014