ShowMe Weather
July 06th 2014 by Dee Loflin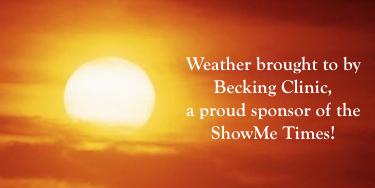 Sunday, July 6, 2014

Weather brought to you by Becking Clinic, a proud sponsor of the ShowMe Times.
Today is Sunday, July 6, 2014. Partly cloudy with temperatures steady in the mid 60's until daybreak. Sunrise 5:47 a.m.
Sunshine and clouds mixed throughout the day with temps rising to 88F. Wins SSW at 10 to 15 mph.
Sunset 8:22 p.m. A few clouds from time to time tonight. Low around 70F. Chance of rain 20%.
Last Updated on July 06th 2014 by Dee Loflin
https://showmetimes.com/Blogpost/urat/Weather-for-Sunday-July-6-2014