ShowMe Weather
April 28th 2014 by Dee Loflin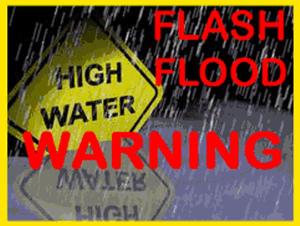 Submitted by

Dee Loflin, SMT Manager/Editor


Stoddard County, Missouri - The National Weather Service in Paducah, Kentucky has issued a Flash Flood Warning.

* FLASH FLOOD WARNING FOR... STODDARD COUNTY IN SOUTHEAST MISSOURI...
* UNTIL 245 AM CDT.
* AT 1150 PM CDT... NATIONAL WEATHER SERVICE DOPPLER RADAR INDICATED NUMEROUS THUNDERSTORMS WITH HEAVY RAINFALL MOVING OVER THE WARNED AREA.
* LOCATIONS IN THE WARNED AREA INCLUDE... BLOOMFIELD... ADVANCE... PUXICO AND BELL CITY.
PRECAUTIONARY/PREPAREDNESS ACTIONS...
ADDITIONAL RAINFALL AMOUNTS OF 1 TO 2 INCHES ARE POSSIBLE IN THE WARNED AREA.
BE ESPECIALLY CAUTIOUS AT NIGHT WHEN IT IS HARDER TO RECOGNIZE THE DANGERS OF FLOODING. IF FLASH FLOODING IS OBSERVED ACT QUICKLY. MOVE UP TO HIGHER GROUND TO ESCAPE FLOOD WATERS. DO NOT STAY IN AREAS SUBJECT TO FLOODING WHEN WATER BEGINS RISING.
MOST FLOOD DEATHS OCCUR IN AUTOMOBILES. NEVER DRIVE YOUR VEHICLE INTO AREAS WHERE THE WATER COVERS THE ROADWAY. FLOOD WATERS ARE USUALLY DEEPER THAN THEY APPEAR. JUST ONE FOOT OF FLOWING WATER IS POWERFUL ENOUGH TO SWEEP VEHICLES OFF THE ROAD. WHEN ENCOUNTERING FLOODED ROADS MAKE THE SMART CHOICE... TURN AROUND... DONT DROWN.
Last Updated on April 28th 2014 by Dee Loflin
https://showmetimes.com/Blogpost/uqv0/Flash-Flood-Warning-Issued-for-Stoddard-County