ShowMe Weather
January 10th 2014 by Dee Loflin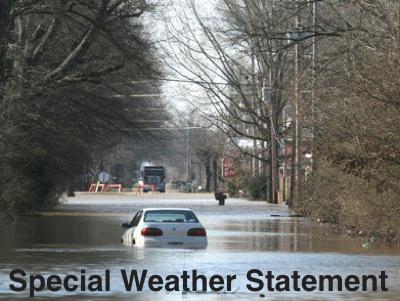 Submitted by
Dee Loflin, SMT Manager/Editor

Stoddard County, Missouri -
The National Weather Service in Paducah, Kentucky has issued a Special Weather Statement.
A LARGE AREA OF SHOWERS HAS OVERSPREAD MOST OF THE AREA THIS EVENING... AND MOST OF THE REGION IS EXPECTED TO RECEIVE AROUND 1 INCH OF RAINFALL BEFORE IT COMES TO AN END OVERNIGHT.
AROUND ONE INCH OF RAIN HAS ALREADY FALLEN IN THE POPLAR BLUFF MISSOURI AREA... WHICH HAS BROUGHT DITCHES TO BANK FULL AND SOME STANDING WATER IN LOW-LYING AREAS. SIGNIFICANT FLOODING HAS NOT BEEN REPORTED... AND IS NOT EXPECTED BEFORE THE LAST OF THE SHOWERS PASSES LATER THIS EVENING. SIMILAR IMPACTS ARE EXPECTED ACROSS THE REMAINDER OF THE REGION THROUGH THE NIGHT.
A FEW THUNDERSTORMS HAVE MOVED NORTHEAST INTO PORTIONS OF WEST KENTUCKY... AND THAT TREND MAY CONTINUE INTO THE EARLY MORNING HOURS. HOWEVER... THESE STORMS ARE QUITE SMALL AND MOVING VERY QUICKLY... SO ENHANCED HEAVY RAINFALL IS NOT ANTICIPATED OVER WEST KENTUCKY.
Other affected areas:
Jefferson, IL;
Wayne, IL;
Edwards, IL;
Wabash, IL;
Perry, IL;
Franklin, IL;
Hamilton, IL;
White, IL;
Jackson, IL;
Williamson, IL;
Saline, IL;
Gallatin, IL;
Union, IL;
Johnson, IL;
Pope, IL;
Hardin, IL;
Alexander, IL;
Pulaski, IL;
Massac, IL;
Gibson, IN;
Pike, IN;
Posey, IN;
Vanderburgh, IN;
Warrick, IN;
Spencer, IN;
Fulton, KY;
Hickman, KY;
Carlisle, KY;
Ballard, KY;
McCracken, KY;
Graves, KY;
Livingston, KY;
Marshall, KY;
Calloway, KY;
Crittenden, KY;
Lyon, KY;
Trigg, KY;
Caldwell, KY;
Union, KY;
Webster, KY;
Hopkins, KY;
Christian, KY;
Henderson, KY;
Daviess, KY;
McLean, KY;
Muhlenberg, KY;
Todd, KY;
Perry, MO;
Bollinger, MO;
Cape Girardeau, MO;
Wayne, MO;
Carter, MO;
Ripley, MO;
Butler, MO;
Stoddard, MO;
Scott, MO;
Mississippi, MO;
New Madrid, MO
Last Updated on January 10th 2014 by Dee Loflin
https://showmetimes.com/Blogpost/uqfg/Special-Weather-Statement--Heavy-Rains