ShowMe Weather
May 02nd 2017 by Dee Loflin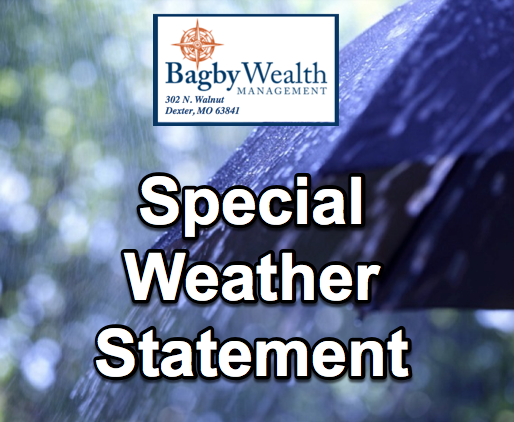 Stoddard County, Missouri - The National Weather Service in Paducah, Kentucky has issued a SPECIAL WEATHER STATEMENT until 3:30 p.m. Tuesday.

SPECIAL WEATHER STATEMENT UNTIL 3:30PM CDT TUE
...MORE RAINFALL HEADING INTO THE REGION.
.. ANOTHER STRONG, SLOW-MOVING STORM SYSTEM WILL BRING MORE MODERATE TO HEAVY RAINFALL TO THE REGION WEDNESDAY THROUGH THURSDAY. 1 TO 3 INCHES OF RAIN IS FORECAST, WITH THE HEAVIEST RAINS FALLING OVER AREAS FROM PERRYVILLE MISSOURI THROUGH PINCKNEYVILLE, MT VERNON AND FAIRFIELD ILLINOIS.
A LARGE MAJORITY OF THIS RAIN IS EXPECTED WEDNESDAY NIGHT INTO THURSDAY MORNING, WHEN SOME EMBEDDED THUNDERSTORMS WILL BE POSSIBLE. WHILE THESE RAINFALL AMOUNTS PALE IN COMPARISON TO THE HEAVY RAINS THAT FELL OVER THE WEEKEND, THEY WILL SERVE TO AGGRAVATE EXISTING FLOODING AND POSSIBLY LEAD TO NEW FLOODING PROBLEMS. MANY RIVER FORECASTS ACROSS THE AREA WILL BE IMPACTED, AT LEAST WITH A PROLONGED FLOOD WAVE, IF NOT NEW OR HIGHER CRESTS. RIVER FORECASTS LATER TODAY SHOULD INCORPORATE MOST OF THIS FORECAST RAINFALL.
PLEASE STAY TUNED FOR THE LATEST FORECAST AND IMPACT INFORMATION ON THIS UPCOMING HEAVY RAINFALL EVENT.

Last Updated on May 02nd 2017 by Dee Loflin
https://showmetimes.com/Blogpost/v7ao/Special-Weather-Statement-Issued-by-National-Weather-Service