ShowMe Weather
May 01st 2017 by Dee Loflin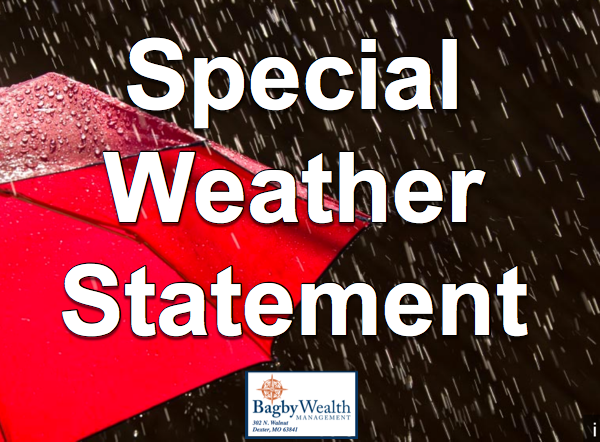 Stoddard County, Missouri - The National Weather Service in Paducah, Kentucky has issued a SPECIAL WEATHER STATEMENT for Stoddard County, Missouri until 5:45 a.m. Tuesday morning.

SPECIAL WEATHER STATEMENT UNTIL 5:45AM CDT TUE
...MORE RAINFALL HEADING INTO THE REGION
... ALTHOUGH THE UPCOMING RAIN EVENT, WHICH WILL START LATE TUESDAY, WILL NOT BE AS SIGNIFICANT AS WHAT WE RECEIVED OVER THE WEEKEND, THERE IS STILL SOME CONCERN. ANOTHER 1 TO 2.5 INCHES OF RAIN WILL FALL OVER ALREADY SATURATED GROUND.
THE HEAVIEST RAINFALL IS EXPECTED TO FALL ALONG AN AXIS FROM NEAR ST. LOUIS EASTWARD ALONG AND JUST NORTH OF I-64 ACROSS SOUTHERN ILLINOIS AND SOUTHWEST INDIANA.
THIS UPCOMING EVENT MAY BE MORE OF A FLASH FLOOD AND LESS OF A RIVER ISSUE IN SOUTHERN ILLINOIS.
HOWEVER, IT MAY BE AN ISSUE ON THE LARGER STEMS SUCH AS THE MISSISSIPPI. RIVER FORECASTS TOMORROW WILL INCLUDE THE EXPECTED RAINFALL FROM THIS UPCOMING SYSTEM. THERE WILL LIKELY BE SOME REVISIONS TO CURRENT AMOUNTS AND LOCATIONS AS WE GET CLOSER TO THE EVENT. THE CURRENT DRY PERIOD WILL ALLOW A GREAT DEAL OF RUNOFF TO OCCUR WHICH WILL HELP THE SITUATION.
THE UPCOMING RAINFALL SHOULD ONLY PRODUCE MINOR RISES ON THE BIG MUDDY, SKILLET FORK, LITTLE WABASH, AND WABASH RIVERS. AT SOME LOCATIONS, LIKE MURPHYSBORO, AND POSSIBLY NEAR NEW HARMONY, THE HEAVY RAINFALL MAY SLIGHTLY INCREASE THE CREST LEVEL. MAINLY, THIS RAIN SHOULD SLOW THE FALL AND KEEP RIVERS AT A HIGH LEVEL FOR A LONGER PERIOD OF TIME.
THE SMALLER RIVERS IN SOUTHEAST MISSOURI WILL GENERALLY CREST BEFORE OR DURING THE EVENT AND THE HEAVIEST RAINFALL WILL BE WELL TO THE NORTH OF THOSE BASINS.

Last Updated on May 01st 2017 by Dee Loflin
https://showmetimes.com/Blogpost/v7af/Special-Weather-Statement-Issued