ShowMe Weather
August 12th 2019 by Dee Loflin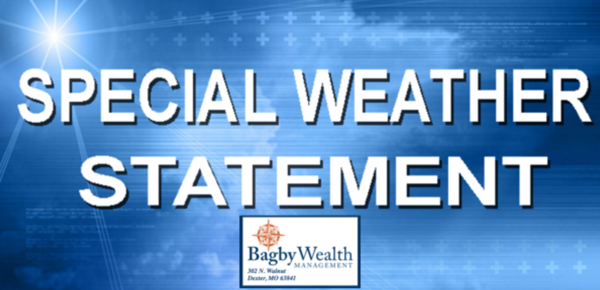 Stoddard County, Missouri - A Special Weather Statement has been issued by the National Weather Service in Paducah, Kentucky for Stoddard County for Monday and Tuesday of this week.
SPECIAL WEATHER STATEMENT
...DANGEROUS HEAT AND HUMIDITY MONDAY INTO TUESDAY...
VERY OPPRESSIVE CONDITIONS ARE POSSIBLE MONDAY ACROSS SOUTHEAST MISSOURI, THE PURCHASE AREA OF KENTUCKY, AND ALONG AND WEST OF INTERSTATES 24 AND 57 IN SOUTHERN ILLINOIS.
A HEAT ADVISORY IS ALREADY IN EFFECT FOR THIS AREA. THE FORECAST FOR MONDAY IS CHALLENGING BECAUSE THERE IS MOUNTING EVIDENCE THAT SHOWERS AND THUNDERSTORMS COULD MOVE THROUGH THE REGION LATE TONIGHT INTO MONDAY MORNING.
IF THIS OCCURS, IT COULD HOLD TEMPERATURES AND HEAT INDICES DOWN SIGNIFICANTLY OVER PORTIONS OF THE REGION. THERE IS ALSO THE POTENTIAL, IF IT DOESN'T RAIN, THAT HEAT INDICES COULD REACH WELL ABOVE 110 DEGREES.
IF CONFIDENCE INCREASES IN THE DRY FORECAST AN UPGRADE TO AN EXCESSIVE HEAT WARNING MAY BE NEEDED. MONDAY NIGHT SHOULD BE DRY AND VERY MILD. LOW TEMPERATURES ARE FORECAST TO BE IN THE UPPER 70S OVER MOST OF THE REGION, AND SOME LOCATIONS MAY NOT DROP BELOW 80.
WITH THIS QUICK START, TEMPERATURES TUESDAY COULD SOAR INTO THE MIDDLE 90S WITH HEAT INDICES OF AT LEAST 105, AND POSSIBLY 110 OR MORE, BY AFTERNOON. ANOTHER HEAT ADVISORY OR EXCESSIVE HEAT WARNING WILL LIKELY BE NEEDED FOR SOME PORTION OF THE REGION TUESDAY.
RELIEF IS ON THE WAY, AS A COLD FRONT IS FORECAST TO MOVE SOUTHEAST THROUGH THE REGION TUESDAY. SCATTERED TO NUMEROUS THUNDERSTORMS ARE EXPECTED TO DEVELOP AHEAD OF THE FRONT IN THE HEAT AND HUMIDITY OF THE AFTERNOON, SO THE WORST CONDITIONS TUESDAY MAY ONLY LAST FOR A FEW HOURS.
BEING ACTIVE IN A HOT ENVIRONMENT PUTS ADDED STRESS ON THE BODY WHICH COULD LEAD TO HEAT-RELATED ILLNESS.

Last Updated on August 12th 2019 by Dee Loflin
https://showmetimes.com/Blogpost/vd1n/Special-Weather-Statement-Issued-for-Stoddard-County