ShowMe Weather
June 19th 2019 by Dee Loflin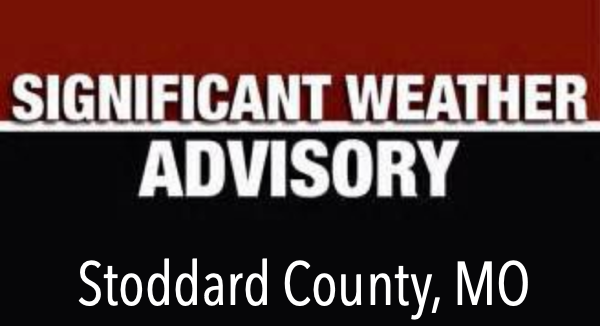 Stoddard County, Missouri - The National Weather Service in Paducah, Kentucky has issued a Significant Weather Advisory until 4:45 p.m. for Stoddard County, Missouri.
SIGNIFICANT WEATHER ADVISORY UNTIL 4:45PM CDT WED
...SIGNIFICANT WEATHER ADVISORY FOR PULASKI...CENTRAL ALEXANDER... WESTERN BALLARD...MISSISSIPPI...EASTERN SCOTT...NORTHEASTERN NEW MADRID AND SOUTHEASTERN STODDARD COUNTIES UNTIL 445 PM CDT
... AT 355 PM CDT, DOPPLER RADAR WAS TRACKING STRONG THUNDERSTORMS ALONG A LINE EXTENDING FROM NEAR KELSO TO 7 MILES NORTH OF BERTRAND TO MINER TO NEAR CANALOU.
MOVEMENT WAS EAST AT 35 MPH. WINDS IN EXCESS OF 40 MPH WILL BE POSSIBLE WITH THESE STORMS. LOCATIONS IMPACTED INCLUDE... SIKESTON, CHARLESTON, CAIRO, MINER, MOUNDS, BARLOW, MATTHEWS, MOUND CITY, WYATT, ANNISTON, OLIVE BRANCH, HORSESHOE LAKE CONSERVATION AREA, OLMSTED, AND PULASKI.
PRECAUTIONARY/PREPAREDNESS ACTIONS... THESE STORMS MAY INTENSIFY, SO BE CERTAIN TO MONITOR LOCAL RADIO STATIONS AND AVAILABLE TELEVISION STATIONS FOR ADDITIONAL INFORMATION AND POSSIBLE WARNINGS FROM THE NATIONAL WEATHER SERVICE. && A SEVERE THUNDERSTORM WATCH REMAINS IN EFFECT UNTIL 900 PM CDT FOR SOUTHERN ILLINOIS...WESTERN KENTUCKY...AND SOUTHEASTERN MISSOURI.

Last Updated on June 19th 2019 by Dee Loflin
https://showmetimes.com/Blogpost/vcrc/Significant-Weather-Advisory-Issued-for-Stoddard-County