ShowMe Weather
June 16th 2019 by Dee Loflin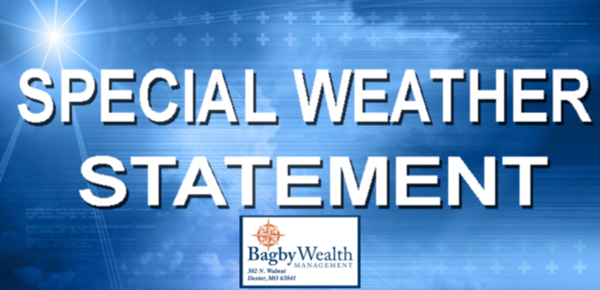 Stoddard County, Missouri - The National Weather Service has issued a Special Weather Statement for Stoddard County, Missouri until 7:30 p.m.
SPECIAL WEATHER STATEMENT UNTIL 7:30PM CDT SUN
...SPECIAL WEATHER STATEMENT...
AT 525 PM, NUMEROUS STRONG THUNDERSTORMS CONTINUE OVER MUCH OF SOUTHEAST MISSOURI INTO SOUTHERN ILLINOIS AND SOUTHWEST INDIANA. STRONG STORMS WERE INCREASING FROM THE MISSOURI BOOTHEEL REGION NORTH, AND WILL BE MOVING INTO WEST KENTUCKY THIS EVENING.
THE ENTIRE REGION REMAINS IN A SEVERE THUNDERSTORM WATCH THROUGH 1000 PM. THE STRONGER STORMS WILL PRODUCE HIGH WIND GUSTS AND SMALL HAIL.
AT TIMES, THE STORMS WILL BRIEFLY BECOME SEVERE, SO CONTINUE TO MONITOR NOAA WEATHER RADIO OR LOCAL MEDIA FOR WARNINGS. THE CONCERN FOR FLASH FLOODING WILL CONTINUE TO INCREASE THROUGH THE EVENING HOURS AS STORMS TRAIN OVER AREAS THAT HAVE ALREADY RECEIVED HEAVY RAIN.
Last Updated on June 16th 2019 by Dee Loflin
https://showmetimes.com/Blogpost/vcqr/Special-Weather-Statement-Issued-for-Stoddard-County