ShowMe Weather
June 07th 2019 by Dee Loflin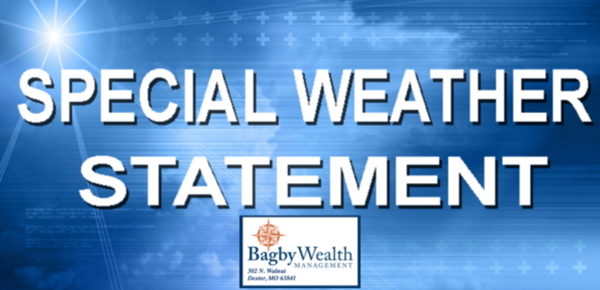 Stoddard County, Missouri - The National Weather Service in Paducah, Kentucky has issued a Special Weather Statement until 5 p.m. Friday.
SPECIAL WEATHER STATEMENT UNTIL 5PM CDT FRI
...LOCALLY HEAVY RAINS COULD POSE A FLOODING HAZARD AT TIMES... AS A LOW PRESSURE SYSTEM DRIFTS EASTWARD INTO THE MISSISSIPPI RIVER VALLEY, IT WILL STALL AND SLING TROPICALLY SOURCED MOISTURE NORTHWARD ACROSS AND THROUGHOUT THE LOWER OHIO VALLEY.
THIS WILL INCLUDE ALL OF OUR QUAD STATE AREA. WHILE OVERALL RAINFALL AMOUNTS INTO THE WEEKEND MAY AVERAGE, IN GENERALLY, AROUND AN INCH OR LESS, LOCALLY HIGHER AMOUNTS WILL BE POSSIBLE. BE AWARE THAT IF YOU GET A PARTICULARLY STRONG STORM, OR REPEAT SHOWERS AND STORMS OVER THE SAME AREA,
YOU MAY EXPERIENCE TEMPORARILY AT LEAST, LOCALLY HEAVY DOWNPOURS CAPABLE OF PRODUCING FLOOD ISSUES. IN ADDITION, SHOWER AND THUNDERSTORM MOVEMENT WILL BE QUITE SLOW. THIS COULD PROLONG THE RAINFALL IN SOME LOCATIONS. REMEMBER TO SEEK HIGH GROUND IF YOU NOTICE RISING WATERS, AND NEVER CROSS A FLOODED ROADWAY. BE ESPECIALLY CAUTIOUS AT NIGHT, WHEN RISING WATERS ARE MORE DIFFICULT TO DETECT.

Last Updated on June 07th 2019 by Dee Loflin
https://showmetimes.com/Blogpost/vcpl/Special-Weather-Statement-Issued-Until-500-pm-Friday