ShowMe Weather
April 17th 2019 by Dee Loflin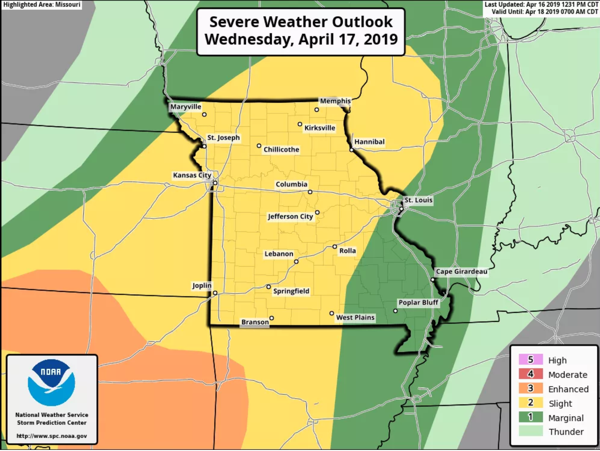 Stoddard County, Missouri - Strong to potentially severe thunderstorms looking to make a return for much of Missouri Wednesday evening into the overnight hours.
A storm system will make its way across the state. Along with this storm system comes a cold front will be the focal point of the thunderstorm development for the state of Missouri tomorrow night. Ahead of this cold front, the environment will become increasingly favorable for strong to severe storms.
These storms are expected to develop before sunset across western and northwestern Missouri and spread east southeastward through the night.
Given the environment, large hail and damaging winds especially will be the primary hazards with the more intense thunderstorms.
Right now, the tornado threat is very low but we will monitor if the threat does indeed increase.
Weather provided by Bagby Wealth Management.
Last Updated on April 17th 2019 by Dee Loflin
https://showmetimes.com/Blogpost/vcgj/Strong-Storms-on-Tap-for-Wednesday-Evening-and-Thursday