ShowMe Weather
March 09th 2019 by Dee Loflin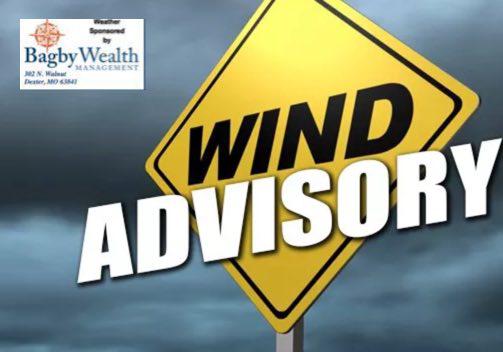 Stoddard County, Missouri - The National Weather Service in Paducah, Kentucky has issued a WIND ADVISORY from Noon Saturday to 9 p.m. Saturday for Stoddard County, MO>
...WIND ADVISORY NOW IN EFFECT FROM NOON TODAY TO 9 PM CST THIS EVENING...
* TIMING... WINDS WILL BEGIN TO INCREASE AROUND MIDDAY, WITH PEAK WIND SPEEDS AND GUSTS OCCURRING DURING THE MID TO LATE AFTERNOON.
* WINDS... SUSTAINED WINDS 20 TO 30 MPH, WITH GUSTS UP TO 45 MPH, ARE EXPECTED.
* IMPACTS... OUTDOOR ACTIVITIES AND FURNISHINGS WILL BE IMPACTED BY HIGH WINDS. VEHICULAR TRAFFIC, ESPECIALLY HIGH PROFILE VEHICLES, WILL EXPERIENCE DIFFICULT DRIVING CONDITIONS AT TIMES DUE TO HIGH WIND GUSTS. HIGH WIND GUSTS MAY DOWN SOME TREES DUE TO LOOSE SOIL CONDITIONS FROM RECENT HEAVY RAINS. PRECAUTIONARY/PREPAREDNESS ACTIONS...
A WIND ADVISORY IS ISSUED WHEN SUSTAINED WINDS ARE EXPECTED TO REACH 30 MPH OR GREATER FOR LONGER THAN ONE HOUR...OR WIND GUSTS ARE EXPECTED TO REACH 40 MPH FOR ANY DURATION.

Last Updated on March 09th 2019 by Dee Loflin
https://showmetimes.com/Blogpost/vc98/Wind-Advisory-Issued-for-Saturday-March-9-2019