ShowMe Weather
February 19th 2019 by Dee Loflin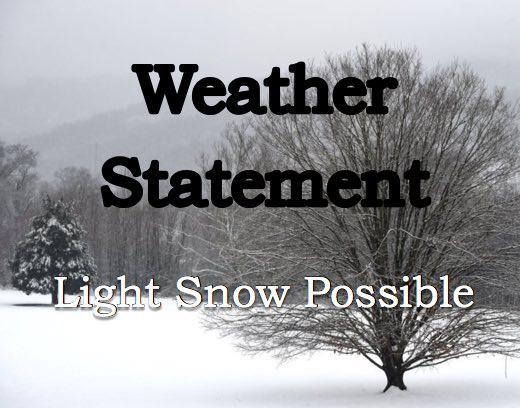 Stoddard County, Missouri - The National Weather Service in Paducah, Kentucky has extended the Special Weather Statement until 10 p.m. for Stoddard County.
SPECIAL WEATHER STATEMENT UNTIL 10PM CST TUE
...WINTRY PRECIPITATION POSSIBLE LATE TODAY INTO THIS EVENING
... PRECIPITATION WILL MOVE INTO SOUTHEAST MISSOURI AND WEST KENTUCKY BY LATE THIS AFTERNOON, AND CONTINUE NORTH THIS EVENING INTO SOUTHERN ILLINOIS AND SOUTHWEST INDIANA.
THERE MAY BE A BRIEF PERIOD OF SLEET IN WEST KENTUCKY AND SOUTHEAST MISSOURI AT ONSET, FOLLOWED BY ALL RAIN. SOME SLEET WITH THUNDER HAS BEEN OBSERVED IN TENNESSEE. THIS EVENING, ACROSS THE REST OF SOUTHEAST MISSOURI, INTO SOUTHERN ILLINOIS AND SOUTHWEST INDIANA,
THE MIXED LIGHT WINTRY PRECIPITATION AT ONSET SHOULD TURN TO A PERIOD OF WET SNOW, MIXED WITH RAIN. MINOR ACCUMULATIONS UP TO 1 INCH CANNOT BE RULED OUT ON GRASSY AND ELEVATED SURFACES. HOWEVER, ROAD CONDITIONS SHOULD REMAIN GOOD FOR THE MOST PART WITH TEMPERATURES RUNNING 32 TO 34 DEGREES. ISOLATED SLICK SPOTS CANNOT BE RULED OUT ENTIRELY, SO USE CAUTION.

Last Updated on February 19th 2019 by Dee Loflin
https://showmetimes.com/Blogpost/vc5q/Special-Weather-Statement-Extended-to-10-pm-for-Stoddard-County