ShowMe Weather
January 29th 2019 by Dee Loflin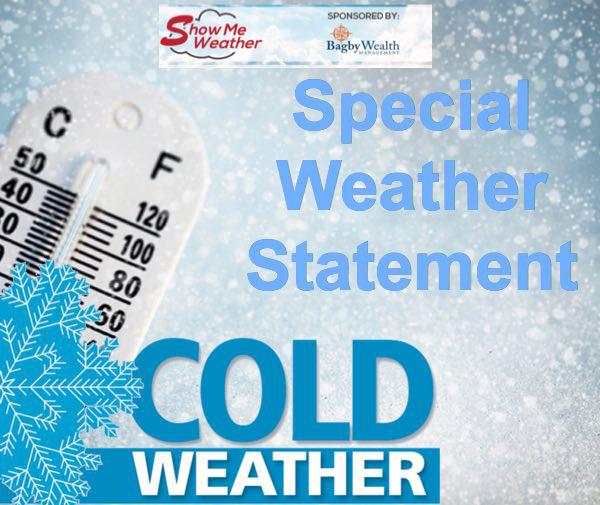 Stoddard County, Missouri - The National Weather Service in Paducah, Kentucky has issued a Special Weather Statement for Stoddard County, Missouri.
SPECIAL WEATHER STATEMENT UNTIL 4:15PM CST TUE
...BITTERLY COLD TEMPERATURES IN STORE FOR THE QUAD STATE REGION.
.. IT WILL BE BITTERLY COLD AT TIMES TONIGHT THROUGH WEDNESDAY NIGHT AS A FRIGID ARCTIC AIRMASS SPREADS ACROSS THE AREA. THE LEADING EDGE OF THE MAIN CORE OF COLD ARCTIC AIR WILL MOVE THROUGH THE QUAD STATE REGION BY THIS EVENING.
LOW TEMPERATURES BY WEDNESDAY MORNING WILL BE NEAR ZERO ALONG THE INTERSTATE 64 CORRIDOR TO THE LOWER TEENS NEAR THE ARKANSAS AND TENNESSEE BORDERS. WIND CHILL TEMPERATURES OVERNIGHT WILL FALL INTO THE 10 TO 20 DEGREES BELOW ZERO RANGE ACROSS PORTIONS OF SOUTHEAST MISSOURI, SOUTHERN ILLINOIS, SOUTHWEST INDIANA AND NORTHWEST KENTUCKY.
A WIND CHILL ADVISORY HAS BEEN ISSUED FOR AREAS NORTH OF A MARBLE HILL MISSOURI, VIENNA ILLINOIS, CALHOUN KENTUCKY LINE FOR LATE TONIGHT THROUGH MIDDAY WEDNESDAY. SOUTHWARD, INTO THE REST OF WEST KENTUCKY AND SOUTHEAST MISSOURI, WIND CHILLS DURING THIS SAME TIME FRAME WILL BE ZERO TO 10 BELOW. THE VERY COLD WEATHER WILL LAST INTO WEDNESDAY NIGHT.
THIS COLD SNAP WILL INCREASE THE LIKELIHOOD OF FROSTBITE AND HYPOTHERMIA IF PRECAUTIONS ARE NOT TAKEN. WE WILL QUICKLY BREAK OUT OF THE COLD, WITH MUCH WARMER CONDITIONS RETURNING BY THE END OF THE WEEK.
Last Updated on January 29th 2019 by Dee Loflin
https://showmetimes.com/Blogpost/vc09/Bitterly-Cold-Temperatures-in-Store-for-Stoddard-County