ShowMe Weather
January 17th 2019 by Dee Loflin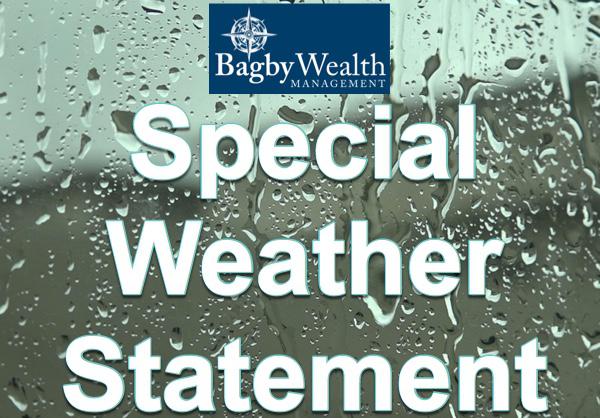 Stoddard County, Missouri - The National Weather Service in Paducah, Kentucky has issued updated a SPECIAL WEATHER STATEMENT until 5 a.m. Friday morning for Stoddard County.
SPECIAL WEATHER STATEMENT UNTIL 5AM CST FRI
...WET START TO WEEKEND OUTLOOK...
...CONFIDENCE STILL EXISTS FOR SOME ACCUMULATING SNOWS, ESPECIALLY NORTH, SATURDAY AFTERNOON INTO SATURDAY NIGHT...
THE MODELS ARE HONING IN ON WHAT LOOKS TO BE A SOGGY START TO THE WEEKEND.
ESTIMATED FORECAST STORM TOTAL RAINFALL FOR FRIDAY NIGHT THROUGH SATURDAY AVERAGES FROM ONE INCH ACROSS OUR NORTH, TO CLOSER TO 1.5 INCHES ACROSS OUR SOUTH. THESE AMOUNTS WILL BE FALLING OVER GROUNDS THAT HAVE RECENTLY RECEIVED GOOD RAINS, SO BE AWARE THAT RIVERS, CREEKS, AND STREAMS MAY RISE MORE QUICKLY, AND STREETS AND LOW LANDS COULD INUNDATE A LITTLE MORE QUICKLY THAN USUAL.
THE MODELS ALSO ARE HONING IN WITH A CONSISTENT SIGNAL FOR A CHANGEOVER TO OCCUR FROM RAIN TO SNOW, AS ARCTIC COLD AIR SLAMS INTO THE AREA WITH THE SYSTEM'S PASSAGE. THIS CHANGEOVER WILL OCCUR AS EARLY AS SATURDAY AFTERNOON ACROSS OUR NORTHWEST, AND WILL TRANSITION SOUTHEASTWARD ACROSS THE ENTIRE AREA LATER SATURDAY INTO SATURDAY NIGHT.
THE BEST CHANCE FOR ACCUMULATING SNOWS STILL LOOKS TO BE NORTH OF THE OHIO RIVER, ESPECIALLY ACROSS OUR NORTHERN THIRD OF THE REGION, OR ALONG AND NORTH OF A LINE FROM ABOUT PERRYVILLE, MISSOURI, TO MOUNT CARMEL, ILLINOIS.
LIGHTER ACCUMULATIONS ARE ANTICIPATED SOUTH OF THE OHIO RIVER, IF ANY. BLUSTERY NORTH WINDS THAT ACCOMPANY THE ARCTIC BLAST LATE SATURDAY INTO SATURDAY NIGHT COULD LEAD TO SOME BLOWING SNOW, AND WILL DRIVE TEMPERATURES DOWN INTO THE TEENS AND 20S. PATCHY BLACK ICE IS A POSSIBILITY FOR DRIVERS, ESPECIALLY ON BRIDGES AND OVERPASSES. I
N ADDITION, WIND CHILL VALUES BY SUNDAY MORNING ARE EXPECTED TO REACH THE SINGLE DIGITS AND LOWER TEENS IN MANY AREAS.
Last Updated on January 17th 2019 by Dee Loflin
https://showmetimes.com/Blogpost/vbts/Special-Weather-Statement-until-5-am-Friday-Morning