ShowMe Weather
January 16th 2019 by Dee Loflin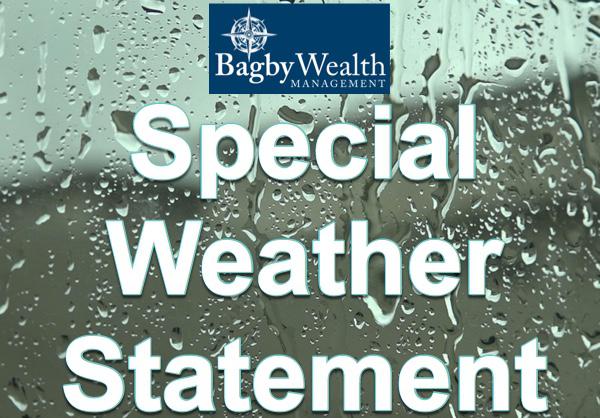 Stoddard County, Missouri - The National Weather Service has issued a second Special Weather Statement until 6 a.m. CST THURSDAY for Stoddard County, Missouri.
SPECIAL WEATHER STATEMENT UNTIL 6AM CST THU
...WET START TO WEEKEND OUTLOOK
... PRELIMINARY MODEL DATA IS STILL POINTING TO A SOGGY START TO THE WEEKEND. ESTIMATED FORECAST STORM TOTAL RAINFALL FOR FRIDAY NIGHT THROUGH SATURDAY AVERAGES FROM ONE INCH ACROSS OUR NORTH, TO POTENTIALLY 2 INCHES ACROSS OUR SOUTH. THESE AMOUNTS WILL BE FALLING OVER GROUNDS THAT HAVE RECENTLY RECEIVED GOOD RAINS, SO BE AWARE THAT RIVERS, CREEKS, AND STREAMS MAY RISE MORE QUICKLY, AND STREETS AND LOW LANDS COULD INUNDATE A LITTLE MORE QUICKLY THAN USUAL.
WHILE THESE TOTALS SHOULD NOT CAUSE TOO WIDESPREAD A PROBLEM, THERE IS SOME COLD AIR COMING IN ON THE BACK SIDE OF THIS SYSTEM THAT COULD CHANGE IT OVER TO SNOW, BEFORE ENDING. AND EVEN IF THAT DOES NOT PRODUCE MUCH, YOU WILL HAVE WET ROADWAYS AS TEMPERATURES PLUNGE SATURDAY NIGHT INTO SUNDAY.
THIS COULD TRANSITION POTENTIAL HAZARDS FROM FLOODING AND HYDROPLANING FRIDAY NIGHT AND SATURDAY, TO SLICK PATCHES OF SNOW OR ICE, OR BLACK ICE, SATURDAY NIGHT THROUGH SUNDAY AND SUNDAY NIGHT.
IN ADDITION, STRONG WINDS COULD PRODUCE BITTER COLD WIND CHILLS EARLY SUNDAY MORNING AND AGAIN EARLY MONDAY MORNING. THIS SPECIAL WEATHER STATEMENT IS TO ADVISE YOU TO JUST BE AWARE OF ALL THESE POTENTIAL WEEKEND WEATHER HAZARDS, AND BE MONITORING YOUR LOCAL NWS FORECASTS AND UPDATES TO THIS EVOLVING WEATHER SITUATION, AS WE NEAR THE WEEKEND.
Last Updated on January 16th 2019 by Dee Loflin
https://showmetimes.com/Blogpost/vbtc/A-Second-Special-Weather-Statement-has-been-Issued-for-Stoddard-County