ShowMe Weather
January 07th 2019 by Dee Loflin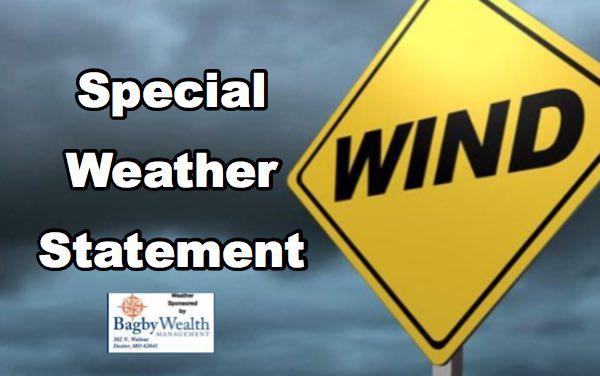 Stoddard County, Missouri - The National Weather Service in Paducah, Kentucky has issued a Special Weather Statement for Stoddard County, Missouri until 6:45 p.m. tonight!
SPECIAL WEATHER STATEMENT UNTIL 6:45 PM CST MON ...GUSTY SOUTH WINDS EXPECTED ACROSS THE QUAD STATE TODAY...
AS THE DAY PROGRESSES, SOUTH WINDS 15 TO 25 MPH, WITH LOCAL WIND GUSTS TO 35 MPH WILL OVERSPREAD THE QUAD STATE REGION.
THESE BREEZY CONDITIONS WILL BE OCCURRING AHEAD OF AN INTENSE AREA OF LOW PRESSURE THAT IS EXPECTED TO MOVE FROM THE CENTRAL PLAINS TO LAKE MICHIGAN BY THIS EVENING. IF YOU HAVE OUTDOOR OBJECTS THAT ARE NOT SECURED, THEY MAY BE TOSSED AROUND BY THE WINDS. IF YOU DRIVE HIGH PROFILE VEHICLES, SUCH AS A TRACTOR TRAILER OR RECREATIONAL VEHICLE, YOU MAY ENCOUNTER SOME DIFFICULTY IN STEERING YOUR VEHICLE.
THIS WILL BE ESPECIALLY TRUE FOR THOSE TRAVELING ON ROADS ORIENTED EAST OR WEST TODAY. THE BREEZY WIND CONDITIONS SHOULD DROP OFF SIGNIFICANTLY AFTER SUNSET ACROSS THE REGION.

Last Updated on January 07th 2019 by Dee Loflin
https://showmetimes.com/Blogpost/vbri/Special-Weather-Statement-Issued-for-Stoddard-County