ShowMe Weather
November 12th 2018 by Dee Loflin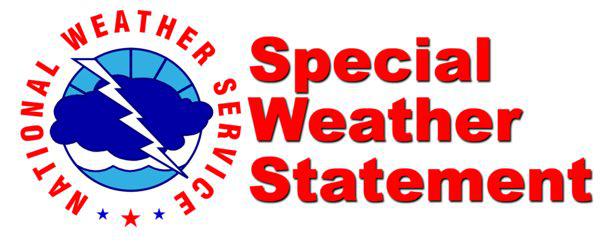 Stoddard County, Missouri - Special Weather Statement issued by the National Weather Service in Paducah, Kentucky.
...ICE AND SNOW POSSIBLE THIS EVENING.
... A WINTRY MIX OF PRECIPITATION CAN BE EXPECTED TO SLOWLY WORK SOUTHEAST ACROSS PARTS OF THE QUAD STATE REGION,
PERSISTING INTO THE EVENING AND OVERNIGHT HOURS. THE VAST MAJORITY OF THE REGION WILL SEE JUST RAIN THROUGH SUNSET WITH TEMPERATURES IN THE LOWER 40S. BUT SOME LOCATIONS IN SOUTHEAST MISSOURI AND SOUTHWEST ILLINOIS COULD SEE PATCHY SLEET OCCUR ON THE LEADING EDGE OF THE RAIN.
AS TEMPERATURES FALL AFTER SUNSET, THE RAIN WILL GRADUALLY MIX WITH THEN CHANGE OVER TO SLEET, FREEZING RAIN AND SNOW DURING THE EVENING HOURS. THIS IS ESPECIALLY TRUE FOR SOUTHEAST MISSOURI AND SOUTHWEST ILLINOIS.
THE BEST CHANCE FOR SEEING ANY ACCUMULATING SLEET AND SNOW THIS EVENING WILL BE ALONG AND NORTH OF A LINE OF PIEDMONT AND PERRYVILLE MISSOURI, ONWARD TO AVA, DUQUOIN, MOUNT VERNON, AND CISNE ILLINOIS. SNOWFALL AMOUNTS COULD RANGE FROM ONE TO THREE TENTHS BEFORE THE PRECIPITATION ENDS OVERNIGHT.
IN ADDITION TO THE SNOW AND SLEET, UP TO A TENTH OF AN INCH OF ICE MAY ACCUMULATE ON ELEVATED SURFACES ALONG AND NORTHWEST OF A LINE FROM PIEDMONT TO MARBLE HILL AND PERRYVILLE MISSOURI. THE COLDEST AIR WILL RESIDE ALONG THE FOOT HILLS OF SOUTHEAST MISSOURI AND PARTS OF SOUTHWEST ILLINOIS THROUGH MIDNIGHT, BEFORE WORKING SOUTHEAST TO THE OHIO AND WABASH RIVERS BY 3 AM CST.
PATCHES OF LIGHT FREEZING RAIN WILL BE POSSIBLE OVER SOUTHERN ILLINOIS AND THE REMAINDER OF SOUTHEAST MISSOURI DURING THIS TIME. HOWEVER, AS THE FREEZING AIR MOVES IN, MOST OF THE MEASURABLE PRECIPITATION WILL BE EXITING THE AREA OVERNIGHT. VERY LITTLE, IF ANY FREEZING RAIN ACCUMULATION IS EXPECTED. AS TEMPERATURES FALL INTO THE MIDDLE AND UPPER 20S OVERNIGHT, ANY PRECIPITATION LEFT ON UNTREATED ROADS AND BRIDGES WILL FREEZE AND MAY BECOME SLICK AND HAZARDOUS.
FOR THOSE TRAVELING IN SOUTHEAST MISSOURI AND SOUTHERN ILLINOIS LATE TONIGHT OR EARLY TUESDAY, BE WATCHFUL FOR BLACK ICE AND EXERCISE CAUTION WHILE DRIVING.
ANOTHER WINTER SYSTEM IS SLATED TO RETURN TO THE QUAD STATE REGION WEDNESDAY NIGHT INTO THURSDAY, SO TRAVELERS AND RESIDENTS SHOULD TAKE MEASURES TO PREPARE FOR MORE WINTRY WEATHER LATER THIS WEEK.

Last Updated on November 12th 2018 by Dee Loflin
https://showmetimes.com/Blogpost/vbj0/Special-Weather-Statement-for-Stoddard-County