ShowMe Weather
January 03rd 2018 by Dee Loflin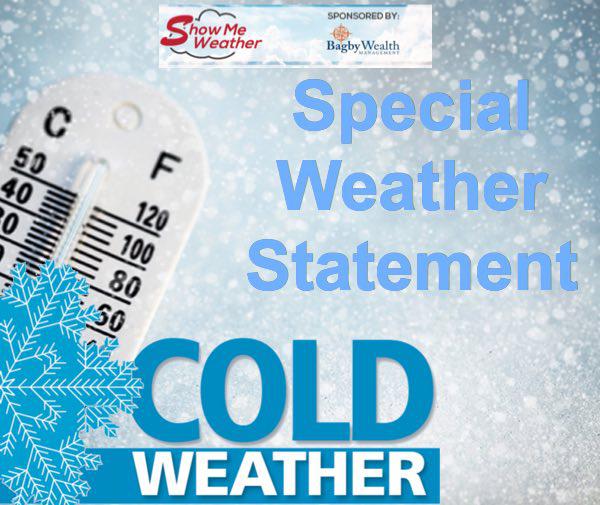 Stoddard County, Missouri - The National Weather Service in Paducah, Kentucky has isused a Special Weather Statement until 4 a.m. CST Thursday, January 4, 2018 for Stoddard County, Missouri.
SPECIAL WEATHER STATEMENT UNTIL 4AM CST THU
...WIND CHILLS WILL DROP BELOW ZERO AGAIN TONIGHT
... A FRESH SURGE OF ARCTIC AIR WILL OVERSPREAD THE REGION TONIGHT RESULTING IN LOW TEMPERATURES IN THE SINGLE DIGITS ABOVE ZERO.
NORTHWEST WINDS WILL PERSIST AND MAY EVEN BECOME GUSTY AT TIMES TONIGHT.
THE RESULT WILL TAKE WIND CHILLS DOWN BELOW ZERO FOR MUCH OF THE NIGHT.
THE COLDEST WIND CHILLS ARE EXPECTED NEAR SUNRISE WHEN THEY WILL RANGE FROM 10 BELOW ZERO NEAR INTERSTATE 64 IN SOUTHERN ILLINOIS AND SOUTHWEST INDIANA TO NEAR 5 BELOW ZERO OVER MUCH OF WEST KENTUCKY AND SOUTHEAST MISSOURI.
THOSE WAITING FOR BUSSES IN THE MORNING AND OTHERS WHO MUST BE OUTSIDE SHOULD BUNDLE UP AS MUCH AS POSSIBLE AND LIMIT THEIR TIME OUTDOORS.
IN ADDITION, MAKE SURE OUTDOOR PETS HAVE ADEQUATE SHELTER FROM THE COLD.
Weather sponsored by Bagby Wealth Management.
Last Updated on January 03rd 2018 by Dee Loflin
https://showmetimes.com/Blogpost/v9e9/Special-Weather-Statement--Temps-to-Drop-into-Single-Digits-Tonight