Features
August 11th 2017 by Dee Loflin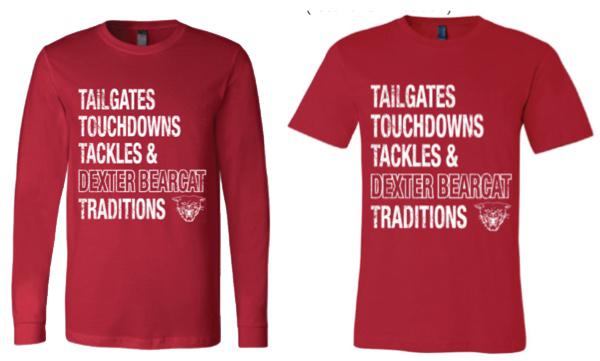 Dexter, Missouri - The Dexter Bearcat Community Tailgate committee has available T-shirts for the annual tailgate event. Proceeds will be donated to the Dexter Public Schools to help in purchasing a large blow-up tunnel to be used at school events.
Each year the Community Tailgate donates money raised back to the Dexter Schools. This year they have decided to sell t-shirts both short and long sleeves to help raise additional money.
Please stop by the Dexter Chamber of Commerce to place your order or call (573) 624-7458. You can also email to info@dexterchamber.com.
Long Sleeve shirts are $15 for Adult Small to Adult 3X and short sleeve shirts are $12 for Youth Small to Adult 3X.
Deadline to order is August 30, 2017 so that shirts are available before the Tailgate!
Individuals who pre-order shirts will be called when they are available for pick-up. Please support the Community Tailgate by purchasing a t-shirt TODAY!
Last Updated on August 11th 2017 by Dee Loflin
https://showmetimes.com/Blogpost/v849/Bearcat-Community-Tailgate-TShirts-On-Sale-NOW