Features
August 02nd 2017 by Dee Loflin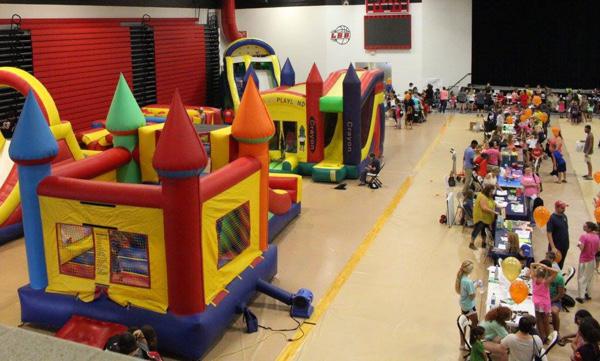 Dexter, Missouri - More than 800 children of all ages were delighted to receive free backpacks full of school supplies from Hope International at their 10th annual Back-to-School Bash at the Bearcat Event Center on Tuesday.
Students were able to get haircuts, dental exams, hearing tests, and eye exams all for free donated by the many businesses in the community. They also had fun in the giant bounce houses set up on one basketball court. There was face painting, balloon animals, lots of free candy and information from various groups and organizations. Students and families were also treated to free popcorn, hotdogs, chips, and soda. Kiger Electric grilled more than 1,300 hotdogs at last count for the event.
What an amazing community effort for our students. It was also good experience for high school students who volunteered to work at many of the booths.
Students came from all over Stoddard County and a few surrounding towns such as Malden, Kennett and Senath. It was a great day and a lot of smiling faces.
This was NOT a low-income only opportunity. They wanted everyone with children to benefit from this event. Getting a child ready to go back to school can be very stressful and hard on a family. They want to make the Back 2 School process a fun and enjoyable day for everyone and it was!
Last Updated on August 02nd 2017 by Dee Loflin
https://showmetimes.com/Blogpost/v81n/10th-Annual-Hope-International-BacktoSchool-Bash-a-Success