ShowMe Weather
May 04th 2017 by Dee Loflin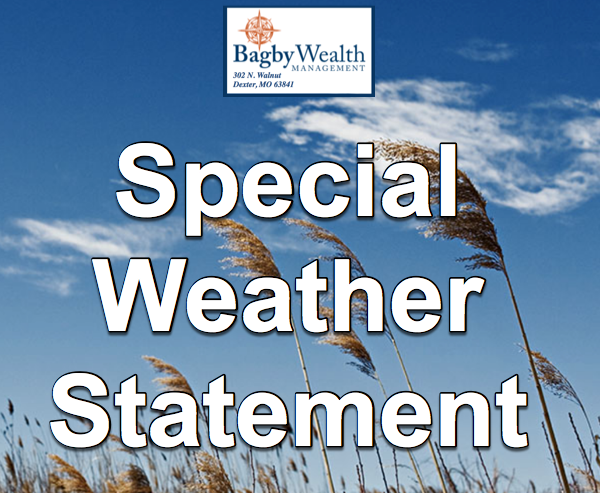 Stoddard county, Missouri - The National Weather Service in Paducah, Kentucky has issued a SPECIAL WEATHER STATEMENT for Stoddard County, Missouri.

SPECIAL WEATHER STATEMENT UNTIL 5AM CDT FR
...GUSTY NORTH WINDS STARTING TONIGHT AND INCREASING FRIDAY
... A STRONG LOW PRESSURE SYSTEM WILL MOVE JUST TO OUR EAST OVERNIGHT.
THIS WILL BRING NORTHERLY WINDS TO THE REGION TONIGHT OF 15 MPH WITH GUSTS AS HIGH AS 25 MPH.
THE MAIN AREAS AFFECTED WILL BE NORTH AND WEST OF THE OHIO RIVER. FRIDAY THESE WINDS WILL SPREAD EAST ACROSS THE ENTIRE AREA AND INTENSIFY. FRIDAY WE EXPECT WINDS TO REMAIN NORTHERLY BUT INCREASE TO 15 TO 20 MPH WITH GUSTS AS HIGH AS 35 MPH.
THIS WILL CREATE HAZARDOUS DRIVING CONDITIONS FOR VEHICLES TRAVELING ALONG WEST OR EAST BOUND TRAVELERS AND ESPECIALLY FOR THOSE IN HIGH PROFILE VEHICLES.
IN ADDITION, CONSIDERING ALL THE SOAKED SOIL, IT WOULD BE MUCH EASIER TO UPROOT A TREE OR TWO. ESPECIALLY ANY THAT ARE ALREADY COMPROMISED FROM RECENT WIND EVENTS.
Last Updated on May 04th 2017 by Dee Loflin
https://showmetimes.com/Blogpost/v7c5/Special-Weather-Statement-Issued-Until-5-am-Friday