ShowMe Weather
March 10th 2017 by Dee Loflin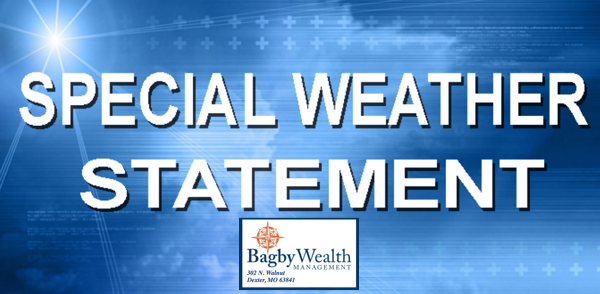 Stoddard County, Missouri - The National Weather Service has issued a Special Weather Statement until 4:30 a.m. Saturday morning,

SPECIAL WEATHER STATEMENT UNTIL 4:30AM CST SAT
..LIGHT SNOWS POSSIBLE LATE TONIGHT INTO SATURDAY EVENING
... ARCTIC AIR WILL CONTINUE TO SURGE THROUGH THE AREA TONIGHT.
MEANWHILE, AN UPPER LEVEL DISTURBANCE WILL DROP SOUTHEASTWARD INTO THE REGION, BRINGING A GOOD CHANCE OF SOME LIGHT SNOW TO MUCH OF THE REGION VERY LATE TONIGHT INTO SATURDAY EVENING.
IF TEMPERATURES CAN WARM INTO THE MIDDLE OR UPPER 30S THE SNOW MAY MIX WITH OR CHANGE TO RAIN OVER PORTIONS OF THE REGION IN THE AFTERNOON.
RELATIVELY WARM GROUND AND ROAD CONDITIONS ALONG WITH TEMPERATURES HOVERING JUST ABOVE FREEZING SHOULD MINIMIZE TRAVEL IMPACTS THROUGH THE DAY.
HOWEVER, IF THE SNOW COMES DOWN HARD AT TIMES, OR IF SNOW LASTS MUCH PAST SUNSET WHEN TEMPERATURES FALL INTO THE 20S FOR GOOD, THERE COULD BE SOME IMPACTS, ESPECIALLY ON ELEVATED ROADWAYS.
ALL PRECIPITATION SHOULD EXIT THE REGION BY MIDNIGHT

Last Updated on March 10th 2017 by Dee Loflin
https://showmetimes.com/Blogpost/v6v9/Special-Weather-Statement-Issued-for-Stoddard-County