ShowMe Weather
March 09th 2017 by Dee Loflin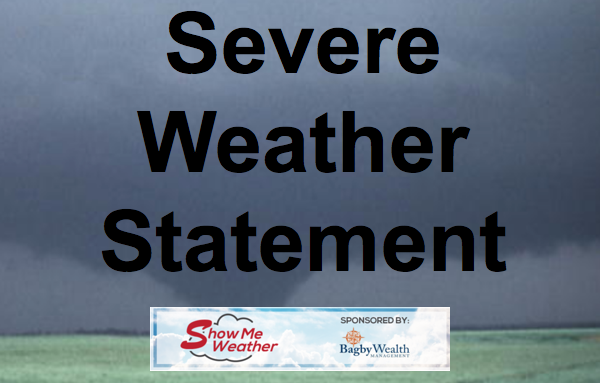 Stoddard County, Missouri - The National Weather Service has issued a Special Weather Statement for Stoddard County until 8 p.m.

SPECIAL WEATHER STATEMENT UNTIL 8PM CST THU
...STRONG TO SEVERE STORMS EXPECTED TO MOVE INTO SOUTHEAST MISSOURI BETWEEN 5 PM AND 6 PM CST
... SEVERE THUNDERSTORMS ACROSS WEST AND SOUTH CENTRAL MISSOURI WERE BEGINNING TO ACCELERATE TOWARD SOUTHEAST MISSOURI THIS AFTERNOON.
THESE THUNDERSTORMS ARE STARTING TO GROUP TOGETHER INTO A SMALL LINE
...CURRENTLY MOVING SOUTHEAST NEAR 50 MPH.
ALTHOUGH HAIL WILL BE A HAZARD, A MORE WIDESPREAD SWATH OF DAMAGING STRAIGHT LINE WINDS, EXCEEDING 70 MPH AT TIMES, WILL BE POSSIBLE FROM THE LATE AFTERNOON AND INTO THE EARLY EVENING.
THE LEADING EDGE OF THE STORMS COULD REACH THE WESTERN BORDER OF WAYNE AND CARTER COUNTIES BETWEEN 5 PM AND 515 PM CST.
THESE STORMS WILL LIKELY INTENSIFY AND ACCELERATE FURTHER AS THE MOVE INTO SOUTHEAST MISSOURI, POSSIBLY REACHING NEAR A CAIRO ILLINOIS TO NEW MADRID MISSOURI LINE NEAR 7 PM CST.
IF YOU LIVE OR ARE PLANNING TRAVEL INTO SOUTHEAST MISSOURI LATE THIS AFTERNOON AND THROUGH SUNSET, BE PREPARED TO SEEK SHELTER WHEN THREATENING STORMS APPROACH YOUR AREA.
THE STRONG STORMS MAY WORK INTO PARTS OF EXTREME SOUTHWEST AND SOUTHERN ILLINOIS DURING THE EVENING.
THESE STORMS WILL LIKELY WORK MOVE INTO THE PURCHASE AREA OF WEST KENTUCKY AFTER DARK. STAY TUNED AND MONITOR TO NOAA WEATHER RADIO, COMMERCIAL TELEVISION AND RADIO, SOCIAL MEDIA, AND MOBILE DEVICES FOR THE LATEST WATCHES, WARNINGS, AND STATEMENTS.

Last Updated on March 09th 2017 by Dee Loflin
https://showmetimes.com/Blogpost/v6us/Severe-Storms-Expected-to-Move-into-Southeast-Missouri