ShowMe Weather
August 14th 2016 by Dee Loflin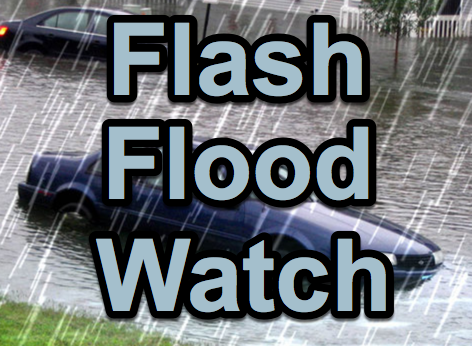 Stoddard County, Missouri - The National Weather Service in Paducah, Kentucky has issued a Flash Flood Watch until 7 a.m. TUESDAY!

FLASH FLOOD WATCH UNTIL 7AM CDT TUE

... FLASH FLOOD WATCH REMAINS IN EFFECT THROUGH TUESDAY MORNING...

THE FLASH FLOOD WATCH CONTINUES FOR

* PORTIONS OF SOUTHERN ILLINOIS... SOUTHWEST INDIANA AND SOUTHEAST MISSOURI... INCLUDING THE FOLLOWING AREAS... IN SOUTHERN ILLINOIS... ALEXANDER... EDWARDS... FRANKLIN... GALLATIN... HAMILTON... JACKSON... JEFFERSON... JOHNSON... PERRY IL... PULASKI... SALINE... UNION... WABASH... WAYNE IL... WHITE AND WILLIAMSON. IN SOUTHWEST INDIANA... GIBSON... PIKE... POSEY... SPENCER... VANDERBURGH AND WARRICK. IN SOUTHEAST MISSOURI... BOLLINGER... BUTLER... CAPE GIRARDEAU... CARTER... PERRY MO... RIPLEY... SCOTT... STODDARD AND WAYNE MO.

* THROUGH TUESDAY MORNING

* SEVERAL ROUNDS OF SHOWERS AND THUNDERSTORMS WITH OCCASIONALLY INTENSE RAINFALL RATES ARE EXPECTED THROUGH MONDAY NIGHT. SOME AREAS COULD SEE AN ADDITIONAL 4 TO PERHAPS 8 INCHES OF STORM TOTAL RAINFALL... POSSIBLY HIGHER IN LOCALIZED AREAS. THE FLASH FLOOD WATCH NOW GENERALLY INCLUDES LOCATIONS NORTH OF A LINE EXTENDING FROM DEXTER MISSOURI TO VIENNA ILLINOIS TO EVANSVILLE AND ROCKPORT INDIANA. SOME LOCATIONS COULD SEE RAINFALL RATES OF AN INCH OR SO WITHIN A 30 MINUTE WINDOW.

* AREAS OF FLASH FLOODING ARE LIKELY IN AND NEAR THE WATCH AREA. THE POTENTIAL EXISTS FOR SIGNIFICANT FLOODING ACROSS PORTIONS OF SOUTHEAST MISSOURI INTO SOUTHERN ILLINOIS... WHERE HEAVY RAINFALL HAS ALREADY OCCURRED IN THE PAST 24 HOURS. FLASH FLOODING OF SOME ROADWAYS... CREEKS AND SMALL RIVERS IS QUITE POSSIBLE.

PRECAUTIONARY/PREPAREDNESS ACTIONS...

A FLASH FLOOD WATCH MEANS THAT CONDITIONS MAY DEVELOP THAT LEAD TO FLASH FLOODING. FLASH FLOODING IS A VERY DANGEROUS SITUATION. DO NOT DRIVE THROUGH FLOODED ROADWAYS. TURN AROUND... DONT DROWN!

YOU SHOULD MONITOR LATER FORECASTS AND BE PREPARED TO TAKE ACTION SHOULD FLASH FLOOD WARNINGS BE ISSUED.


Last Updated on August 14th 2016 by Dee Loflin
https://showmetimes.com/Blogpost/v56s/Flash-Flood-Watch-Up-to-8-Additional-Inches-of-Rain