ShowMe Weather
June 15th 2016 by Dee Loflin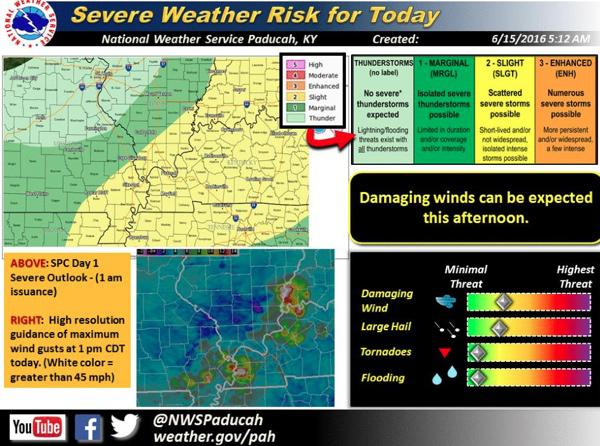 Stoddard County, Missouri - There is a slight risk for severe storms today in the Stoddard County area.
This graphic depicts an assessment of the severe weather risk today (mainly this afternoon) for the Quad State region. A majority of the area is included in a "Slight" coverage for severe storms for today.
The biggest concerns will be damaging thunderstorm wind gusts and hail. The image is in the upper left is the graphical depiction from the Storm Prediction Center of the severe weather risk t

oday.
The legend showing what each color means is to the right of this image. To the lower right, the relative threat of various severe weather hazards (e.g., wind, hail) is shown. The image displayed on the lower left comes from a high resolution numerical computer model.
This image depicts expected wind gusts from thunderstorms around 1 pm CDT today.
The red and white spots are wind speeds between 40 and 50 mph, the lighter blue color represents winds less than 10 mph. Even though the actual winds that occur may be different than what is displayed in this image, it suggests that strong and potential severe winds will be possible this afternoon.
The SPC "Slight" Risk area shows the most likely area for these strong and damaging winds today. The time period of greatest concern for the Quad State region will range from Noon to 5 pm CDT.
Last Updated on June 15th 2016 by Dee Loflin
https://showmetimes.com/Blogpost/v4q9/Slight-Risk-of-Severe-Weather-Today