ShowMe Weather
April 26th 2016 by Dee Loflin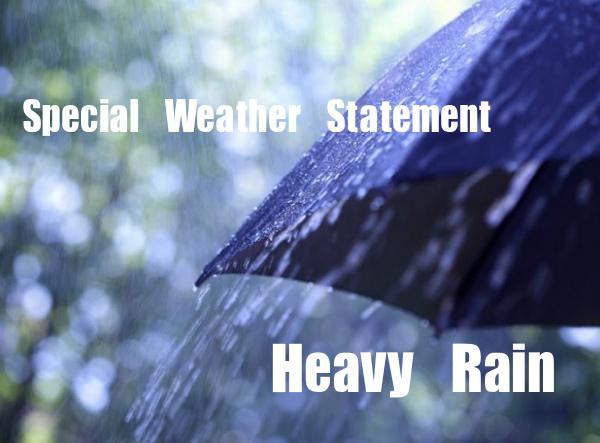 Stoddard County, Missouri - The National Weather Service in Paducah, Kentucky has issued a SPECIAL WEATHER STATEMENT UNTIL 6PM CDT TUE

... HEAVY RAIN UP TO AN INCH LIKELY WITH LINE OF THUNDERSTORMS THROUGH 6 PM CDT...

HEAVY RAIN... WITH RAINFALL TOTALS RANGING FROM SIX TENTHS TO ONE INCH... WILL BE LIKELY WITH THE LEADING EDGE OF THE LINE OF THUNDERSTORMS MOVING ACROSS SOUTHERN ILLINOIS... SOUTHEAST MISSOURI... SOUTHWEST INDIANA... AND NORTHWEST KENTUCKY THIS AFTERNOON.

THE HEAVY RAIN WILL LAST APPROXIMATELY A HALF HOUR BEFORE THE RAIN INTENSITY LESSENS DRAMATICALLY.

THIS RAIN WILL LIKELY OVERWHELM SMALL DITCHES AND STREAMS BRIEFLY AFTER THE STORMS ROLL THROUGH YOUR AREA. THIS MAY ALSO CAUSE MOMENTARY PONDING OF WATER ON ROADWAYS... ESPECIALLY IN URBAN AND POORLY DRAINED LOCATIONS.

IF YOU ARE ABLE... PLEASE DELAY TRAVEL UNTIL THE RAINFALL HAS TIME TO RUNOFF AND DRAIN AWAY FROM YOUR AREA. AVOID TRAVEL ON ROADS THAT ARE COVERED WITH WATER.

LIGHT RAIN WILL LIKELY FOLLOW THE HEAVY RAIN UP TO AN HOUR FOLLOWING THE PASSAGE OF THE INITIAL LINE OF THUNDERSTORMS.


Last Updated on April 26th 2016 by Dee Loflin
https://showmetimes.com/Blogpost/v4fg/Special-Weather-Statement-for-Stoddard-County-Missouri