ShowMe Weather
December 30th 2015 by Dee Loflin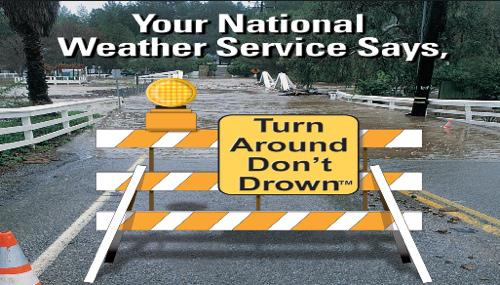 Stoddard County, Missouri - The National Weather Service in Paducah, Kentucky has issued a Special Weather Statement for our area.
... TURN AROUND DONT DROWN...
ALTHOUGH THE HEAVY RAIN HAS LEFT THE QUAD STATE REGION... THE DANGERS OF FLOODING STILL REMAIN IN AND NEAR MAJOR RIVER SYSTEMS IN OUR AREA. DONT BECOME A FLOOD STATISTIC... KEEP YOU AND YOUR FAMILY FROM HARMS WAY NEAR FLOOD WATERS.
THE RECENT HEAVY RAIN... SNOW AND ICE THAT FELL ACROSS THE MIDWEST THE LAST SEVERAL DAYS IS DRAINING FROM CREEKS AND STREAMS INTO MAJOR RIVERS ACROSS OUR AREA. AS THESE LARGER RIVERS CONTINUE TO RISE... SOME TO NEAR RECORD LEVELS... THE WATER WILL BACK UP INTO SMALL RIVERS THAT FEED INTO THEM.
IF YOUR TRAVELS TAKE YOU ACROSS BRIDGES OR ROADS THAT ARE PRONE TO RIVER FLOODING... PLEASE KEEP POSTED ON ANY ROAD CLOSURES ALONG YOUR ROUTE. MAKE PLANS TO USE ALTERNATE ROUTES TO REACH YOUR DESTINATION UNTIL THE FLOOD THREAT HAS LEFT THE AREA.
PLEASE CONTACT YOUR LOCAL HIGHWAY OR ROAD DEPARTMENT TO SEE WHERE ROADS ARE CLOSED IN YOUR AREA.
DO NOT DRIVE AROUND ANY POSTED BARRICADES... YOU ARE PUTTING YOURSELF... YOUR FAMILY... AND EMERGENCY WORKERS WHO MAY HAVE TO RESCUE YOU IN GRAVE DANGER. THE BARRICADES ARE THERE FOR YOUR SAFETY... DONT IGNORE THEM.
THE BEST ADVICE IS TO TURN AROUND... DONT DROWN. WHETHER THE WATER OVER THE ROAD IS OR IS NOT MOVING... THE ROAD MAY BE WASHED OUT AND COULD ALLOW YOUR CAR TO SINK IN THE WATER.
THESE FLOOD WATERS WILL EVENTUALLY RECEDE IN EARLY JANUARY. IN THE MEANTIME... AVOID FLOODED ROADS AT ALL COSTS... YOUR LIFE MAY DEPEND ON IT.
Last Updated on December 30th 2015 by Dee Loflin
https://showmetimes.com/Blogpost/v2ic/Special-Weather-Statement-for-Stoddard-County-Missouri