ShowMe Weather
November 03rd 2015 by Dee Loflin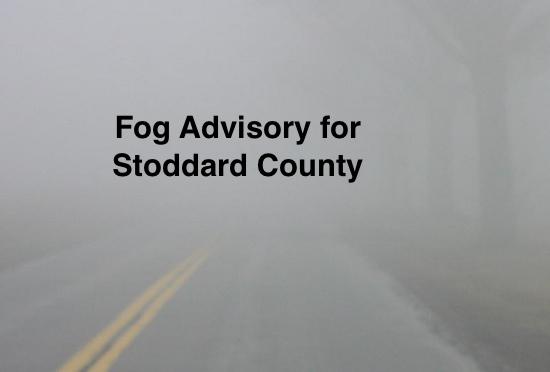 Stoddard County, Missouri -
The National Weather Service in Paducah, Kentucky has issued a DENSE FOG ADVISORY for Stoddard County.
DENSE FOG ADVISORY IN EFFECT UNTIL 9 AM CST WEDNESDAY...
THE NATIONAL WEATHER SERVICE IN PADUCAH HAS ISSUED A DENSE FOG ADVISORY... WHICH IS IN EFFECT UNTIL 9 AM CST WEDNESDAY.
* VISIBILITY... ACROSS SOUTHEAST MISSOURI AND SOUTHWEST ILLINOIS WILL LIKELY DROP QUICKLY BELOW A QUARTER OF A MILE THEN GRADUALLY LIFT NEAR DAYBREAK AS CLOUDS AND SOUTHERLY WINDS LIFT THE FOG. IN SOUTHERN ILLINOIS, LOCALLY DENSE FOG WILL DEVELOP ALONG AND NORTH OF ROUTE 13 NORTHWARD TO INTERSTATE 64. THE FOG SHOULD SLOWLY ERODE FROM THE SOUTH WEDNESDAY MORNING AS CLOUDS MOVE INTO THE AREA. FINALLY... LOCALLY DENSE FOG WILL DEVELOP IN NORTHWEST KENTUCKY NEAR OWENSBORO DURING THE EVENING, THEN WORK NORTH OVER PARTS OF SOUTHWEST INDIANA THROUGH DAYBREAK, BEFORE LIFTING.
* IMPACTS... EVENING TRAVEL WILL BE PROBLEMATIC FOR TRAVELERS ON INTERSTATE 55 IN SOUTHEAST MISSOURI, AND FOR TRAVELERS ON THE ROADS BETWEEN INTERSTATE 64 AND ROUTE 13 IN SOUTHERN ILLINOIS. LOCALLY DENSE FOG MAY CAUSE SHARP CHANGES IN VISIBILITY FROM OWENSBORO KENTUCKY TO WINSLOW INDIANA LATE THIS EVENING AND THROUGH DAYBREAK WEDNESDAY. ALLOW EXTRA TIME FOR TRAVEL TONIGHT AND EARLY WEDNESDAY. MOST OF THE FOG SHOULD LIFT AND MOVE NORTH OF THE ADVISORY AREA BY 9 AM CST.
PRECAUTIONARY/PREPAREDNESS ACTIONS...
A DENSE FOG ADVISORY MEANS VISIBILITIES WILL FREQUENTLY BE REDUCED TO LESS THAN ONE QUARTER MILE. IF DRIVING... SLOW DOWN... USE YOUR HEADLIGHTS... AND LEAVE PLENTY OF DISTANCE AHEAD OF YOU.
Last Updated on November 03rd 2015 by Dee Loflin
https://showmetimes.com/Blogpost/uv3b/Dense-Fog-Advisory-for-Stoddard-County