ShowMe Weather
July 12th 2015 by Dee Loflin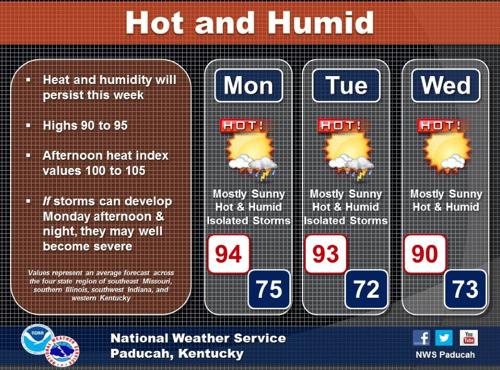 Stoddard County, Missouri -
The National Weather Service in Paducah, Kentucky has issued a Special Weather Statement regarding high heat index.
... HEAT INDEX READINGS LIKELY TO EXCEED 100 DEGREES AGAIN MONDAY AFTERNOON...
ON MONDAY... THE COMBINATION OF TEMPERATURES IN THE LOWER AND MIDDLE 90S... ALONG WITH RELATIVE HUMIDITY VALUES NEAR 50 PERCENT ... WILL BRING A RETURN TO HEAT INDEX VALUES ABOVE 100 DEGREES DURING THE AFTERNOON HOURS. THESE HEAT INDEX VALUES WILL LIKELY IMPACT THE ENTIRE QUAD STATE REGION MONDAY AFTERNOON.
FOR LOCATIONS ALONG AND WEST OF THE MISSISSIPPI RIVER... AS WELL AS THE PURCHASE AREA OF WEST KENTUCKY... WEST OF THE LAND BETWEEN THE LAKES... HEAT INDEX READINGS MAY EXCEED 105 DEGREES FOR A COUPLE OF HOURS.
A FEW LOCATIONS THAT EXPERIENCE EXTENSIVE CLOUD COVER OR THUNDERSTORMS LATE MONDAY AFTERNOON MAY SEE A SHORTENED DURATION OF THESE ELEVATED HEAT INDEX READINGS.
THERE IS SOME POTENTIAL THAT THE ELEVATED HEAT INDEX READINGS MAY PERSIST THROUGHOUT THE WEEK.
IF YOU ARE PLANNING ANY WORK OR PLAY OUTDOORS MONDAY AFTERNOON... BE SURE TO DRINK PLENTY OF WATER. TAKE FREQUENT BREAKS IN THE SHADE OR FIND A COOL LOCATION. CHECK ON FAMILY AND FRIENDS THAT MAY BE ESPECIALLY IMPACTED BY THE EFFECTS OF THE HEAT. MAKE SURE THAT PETS AND LIVESTOCK HAVE ACCESS TO WATER AND SHADE AS WELL.
Last Updated on July 12th 2015 by Dee Loflin
https://showmetimes.com/Blogpost/uubi/Monday-More-of-the-Same-for-Stoddard-County