ShowMe Weather
December 17th 2014 by Dee Loflin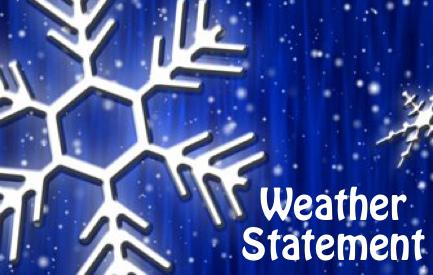 Stoddard County, Missouri -
The National Weather Service in Paducah, Kentucky has issued a Special Weather Statement for Stoddard County.
... LIGHT SNOW... SLEET AND FREEZING RAIN LIKELY IN SOME AREAS TONIGHT...
A WEAK UPPER LEVEL DISTURBANCE WILL LIFT NORTHEAST INTO THE MID MISSISSIPPI RIVER VALLEY LATER TONIGHT. THIS WILL LIKELY CREATE LIGHT WINTRY PRECIPITATION AS IT MOVES OVER A COLD DOME OF HIGH PRESSURE NEAR THE SURFACE. MAINLY LIGHT SNOW IS EXPECTED TO OCCUR NORTH OF A MARBLE HILL MISSOURI TO VIENNA ILLINOIS TO GREENVILLE KENTUCKY LINE. A LIGHT WINTRY MIX AND EVEN SOME LIGHT FREEZING RAIN WILL BE LIKELY SOUTH OF THAT LINE. TRAVEL SHOULD NOT BE IMPACTED... MAINLY DUE TO THE RELATIVE WARM PAVEMENT TEMPERATURES AND AIR TEMPERATURES NEARING THE FREEZING MARK. THE PRECIPITATION WILL TAPER OFF IN MOST LOCATIONS AFTER SUNRISE THURSDAY.
Last Updated on December 17th 2014 by Dee Loflin
https://showmetimes.com/Blogpost/ut9g/Special-Weather-Statement-Issued-by-National-Weather-Service