ShowMe Weather
November 10th 2014 by Dee Loflin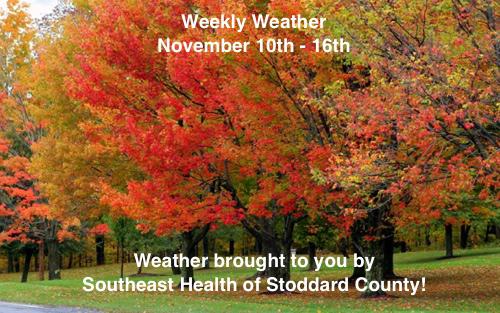 Stoddard County, Missouri – Weather brought to you by Southeast Health of Stoddard County, a proud sponsor of the ShowMe Times.
Monday – November 10th - Sunny with a high of 67F. Monday evening clear to partly cloudy with a slight chance of a shower late. Low 54F. Sunset 4:56 p.m.
Tuesday – November 11th – Veterans Day 2014 - Rain showers early with some sunshine later in the day. High 55F. Winds NW at 10 to 20 mph. Chance of rain 40%. Tuesday night will be clear skies with low 31F. Sunset 4:55 p.m.
Wednesday – November 12th – Cold front moves in! Mainly sunny skies with a high around 45F. Wednesday evening a few clouds from time to time with a low 28F. Sunset 4:54 p.m.
Thursday – November 13th – A few clouds early, otherwise mostly sunny. High 39F. Winds NNW at 10 to 15 mph. Thursday evening clear skies with a low 24F. Sunset 4:53 p.m.
Friday – November 14th – Plentiful sunshine with a high around 40F. Winds N at 5 to 10 mph. Friday evening mostly clear skies with a low of 24F. Winds light and variable. Sunset 4:52 p.m.
WEEKEND FORECAST
Saturday – November 15th – Some sun in the morning with increasing clouds during the afternoon. High 44F. Saturday evening scattered snow flurries and snow showers before midnight. Becoming partly cloudy later. Low around 30F. Chance of snow 30% Sunrise 6:39 a.m. Sunset 4:52 p.m.
Sunday – November 16th – Partly cloudy skies with a high near 40F. Winds NNW at 5 to 10 mph. Sunday evening partly to mostly cloudy with a low around 25F. Winds NNW at 5 to 10 mph. Sunrise 6:40 a.m. Sunset 4:51 p.m.
Last Updated on November 10th 2014 by Dee Loflin
https://showmetimes.com/Blogpost/ut3l/This-Weeks-Weather-with-Snow-Flurries-Possible