ShowMe Weather
October 30th 2014 by Dee Loflin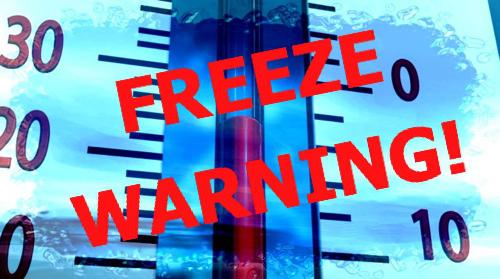 Stoddard County, Missouri - The National Weather Service in Paducah, Kentucky has issued a FREEZE Warning!
... FREEZE WARNING IN EFFECT FROM MIDNIGHT CDT FRIDAY NIGHT TO 8 AM CST SUNDAY...
THE NATIONAL WEATHER SERVICE IN PADUCAH HAS ISSUED A FREEZE WARNING... WHICH IS IN EFFECT FROM MIDNIGHT CDT FRIDAY NIGHT TO 8 AM CST SUNDAY. THE FREEZE WATCH IS NO LONGER IN EFFECT.
* TEMPERATURES WILL DROP BELOW AT OR BELOW THE FREEZING MARK BY MIDNIGHT FRIDAY NIGHT OVER SOUTHWEST ILLINOIS... THEN SPREAD SOUTHEAST ACROSS THE REST OF THE REGION THROUGH THE OVERNIGHT HOURS SATURDAY MORNING. TEMPERATURES SATURDAY MORNING WILL RANGE FROM 26 TO 31 DEGREES.
FOR SATURDAY NIGHT AND SUNDAY... TEMPERATURES SHOULD DROP BELOW FREEZING NO LATER THAN 10 PM CDT SATURDAY NIGHT... WITH LOWS RANGING BETWEEN 26 AND 32 DEGREES.
TEMPERATURES SHOULD RISE ABOVE FREEZING AFTER 9 AM CDT ON SATURDAY AND 8 AM CST ON SUNDAY.
* IMPACTS WILL BE TWOFOLD. COLD TEMPERATURES SATURDAY AND SUNDAY WILL DAMAGE SENSITIVE PLANTS LEFT UNCOVERED AND LEFT OUTDOORS. MODERATE TO HEAVY FROST EXPECTED SATURDAY NIGHT AND SUNDAY WILL ALSO DAMAGE PLANTS. THE COLD TEMPERATURES WILL PUT AN END TO THE OUTDOOR GROWING SEASON.
PRECAUTIONARY/PREPAREDNESS ACTIONS...
A FREEZE WARNING MEANS SUB-FREEZING TEMPERATURES ARE IMMINENT OR HIGHLY LIKELY. THESE CONDITIONS WILL KILL CROPS AND OTHER SENSITIVE VEGETATION.
More Information
... FIRST WIDESPREAD FREEZING TEMPERATURES OF THE SEASON EXPECTED THIS WEEKEND...
.CANADIAN HIGH PRESSURE WILL USHER IN MUCH COLDER AIR INTO THE QUAD STATE REGION BEHIND A COLD FRONTAL PASSAGE ON FRIDAY. AS THE WINDS DIMINISH AND SKIES CLEAR OUT... CONDITIONS WILL BE FAVORABLE FOR FREEZING TEMPERATURES LATE FRIDAY NIGHT INTO SATURDAY MORNING... AND AGAIN SATURDAY NIGHT INTO SUNDAY MORNING. ALTHOUGH FREEZING TEMPERATURES WILL BE THE PRIMARY CONCERN... WINDS WILL LIMIT FROST DEVELOPMENT FRIDAY NIGHT... BUT MODERATE TO HEAVY FROST WILL BE LIKELY LATE SATURDAY NIGHT.
Last Updated on October 30th 2014 by Dee Loflin
https://showmetimes.com/Blogpost/ut1n/Freeze-Warning-Issued-by-National-Weather-Service