ShowMe Weather
August 25th 2014 by Dee Loflin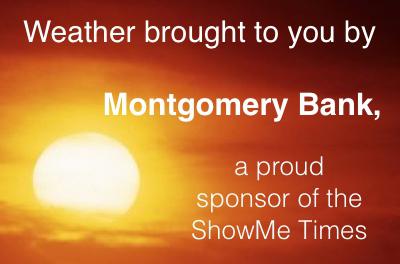 Monday, August 25, 2014

Weather brought to you by Montgomery Bank, a proud sponsor of the ShowMe Times.
Hot! Hot! Hot! Sunshine and a few afternoon clouds. Continued humidity with a high around 96F Winds E at 5 to 10 mph.
Sunset 7:38 p.m. Tonight mainly clear with continued heat and humidity. Low 74F. Winds light and variable.
Tuesday more of the same. High 94F Low 73F
A Heat Advisory remains in effect until 7:00 p.m. CDT Tuesday.
Last Updated on August 25th 2014 by Dee Loflin
https://showmetimes.com/Blogpost/usie/Weather-for-Monday-August-25-2014