ShowMe Weather
August 13th 2014 by Dee Loflin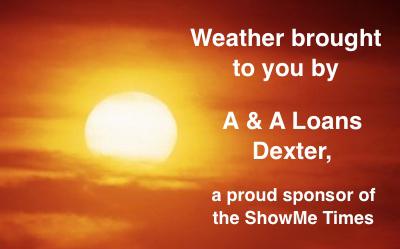 Wednesday, August 13, 2014

Weather brought to you by A & A Loans, a proud sponsor of the ShowMe Times.
Sunny with temperatures rising towards the low 80s. This afternoon abundant sunshine with a high of 83F. Winds light and variable.
Sunset 7:54 p.m. Tonight clear skies with a low 59F. Winds light and variable.
Pollen Alert for Stoddard County. Very high for Weeds like thistle, vines and Johnson grass.
Did you know that Marijuana is a Missouri Weed?
Last Updated on August 13th 2014 by Dee Loflin
https://showmetimes.com/Blogpost/urh4/Weather-for-Wednesday-August-13-2014