ShowMe Weather
August 11th 2014 by Dee Loflin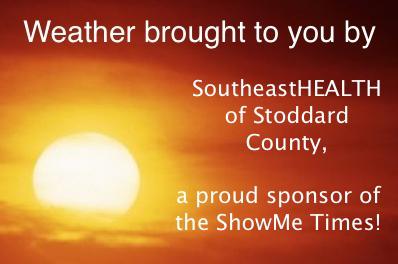 Monday, August 11, 2014

Weather brought to you by SoutheastHEALTH of Stoddard County, a proud sponsor of the ShowMe Times.
Partly to mostly sunny this morning with temperatures warming rapidly into the low to mid 80s. Winds NW at 5 to 10 mph.
This afternoon scattered thunderstorms. Humidity 73%. High 86F. Winds NW at 5 to 10 mph. Chance of rain 50%.
Sunset 7:56 p.m. Clear skies tonight with a low around 66F. Winds light and variable. NW at 6 mph.
Last Updated on August 11th 2014 by Dee Loflin
https://showmetimes.com/Blogpost/urge/Weather-for-Monday-August-11-2014