ShowMe Weather
February 07th 2014 by Dee Loflin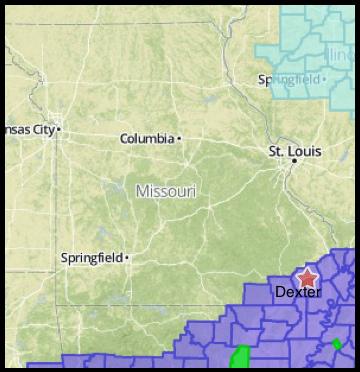 Submitted by
Dee Loflin, SMT Manager/Editor
Stoddard County, Missouri - The National Weather Service in Paducah, Kentucky has issued a Winter Weather Advisory for Stoddard County
... WINTER WEATHER ADVISORY IN EFFECT FROM 6 PM THIS EVENING TO 6 AM CST SATURDAY...
THE NATIONAL WEATHER SERVICE IN PADUCAH HAS ISSUED A WINTER WEATHER ADVISORY FOR SNOW... WHICH IS IN EFFECT FROM 6 PM THIS EVENING TO 6 AM CST SATURDAY. THIS ADVISORY INCLUDES LOCATIONS ALONG AND SOUTH OF A LINE FROM POPLAR BLUFF MISSOURI... TO PADUCAH KENTUCKY... TO OWENSBORO KENTUCKY.
* ACCUMULATIONS... FROM ONE TO TWO INCHES OF DRY POWDERY SNOW IS EXPECTED.
* TIMING... MOST OF THE SNOW WILL FALL BETWEEN 6 PM AND MIDNIGHT IN THE SOUTHEAST MISSOURI COUNTIES... BETWEEN 9 PM AND 3 AM IN FAR WEST KENTUCKY AND THE SOUTHERN TIP OF ILLINOIS... AND BETWEEN MIDNIGHT AND 6 AM IN THE PENNYRILE REGION OF WESTERN KENTUCKY.
* MAIN IMPACT... ROADS WILL BECOME SNOW COVERED AND SLIPPERY.
* OTHER IMPACTS... COLD TEMPERATURES AROUND 20 DEGREES TONIGHT WILL REDUCE THE EFFECTIVENESS OF SOME MELTING AGENTS SUCH AS ROCK SALT.
PRECAUTIONARY/PREPAREDNESS ACTIONS...
A WINTER WEATHER ADVISORY FOR SNOW MEANS THAT PERIODS OF SNOW WILL CAUSE TRAVEL DIFFICULTIES. BE PREPARED FOR SNOW COVERED ROADS AND LIMITED VISIBILITIES... AND USE CAUTION WHILE DRIVING.
&&
More Information
.A DISTURBANCE IN THE UPPER LEVELS OF THE ATMOSPHERE WILL MOVE EAST ACROSS THE LOWER MISSISSIPPI VALLEY TONIGHT... BRINGING SNOW AS FAR NORTH AS THE LOWER OHIO VALLEY AND SOUTHEAST MISSOURI.
Last Updated on February 07th 2014 by Dee Loflin
https://showmetimes.com/Blogpost/uqjp/Winter-Weather-Advisory-Issued-for-Stoddard-County