ShowMe Weather
January 08th 2014 by Dee Loflin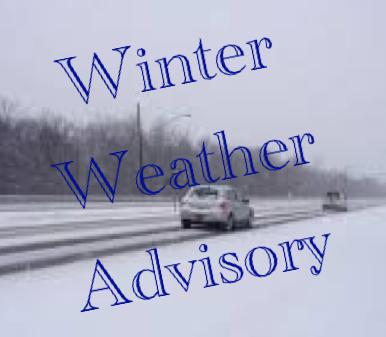 Submitted by
Dee Loflin, SMT Manager/Editor
Stoddard County, Missouri - The National Weather Service in Paducah, Kentucky has issued a Winter Weather Advisory....... WINTER WEATHER ADVISORY IN EFFECT FROM 6 PM THIS EVENING TO 9 AM CST THURSDAY...
THE NATIONAL WEATHER SERVICE IN PADUCAH HAS ISSUED A WINTER WEATHER ADVISORY FOR SNOW AND MINOR SLEET ACCUMULATION TONIGHT INTO EARLY THURSDAY MORNING. THIS WINTER WEATHER ADVISORY IS IN EFFECT FROM 6 PM THIS EVENING TO 9 AM CST THURSDAY. THE ADVISORY COVERS ALL OF SOUTHEAST MISSOURI AND FULTON COUNTY IN WEST KENTUCKY.
* TIMING... A VERY BRIEF SHOT OF VERY LIGHT SNOW AND SLEET WILL FALL THIS AFTERNOON... BUT MEASURABLE ACCUMULATIONS ARE EXPECTED TO OCCUR BY SUNSET AND CONTINUE OVERNIGHT. THE SNOW AND SLEET WILL CHANGE OVER TO RAIN AND DRIZZLE BY LATE MORNING ON THURSDAY.
* ACCUMULATIONS OF ONE TO LOCALLY THREE INCHES OF SNOW ARE EXPECTED MAINLY WEST OF A DEXTER TO MARBLE HILL MISSOURI LINE... WITH LESSER AMOUNTS FURTHER EAST. MINOR SLEET ACCUMULATIONS LESS THAN A TENTH OF AN INCH ARE EXPECTED.
* IMPACTS WITH THE SNOW AND SLEET ACCUMULATIONS WILL CAUSE TRAVEL PROBLEMS ON RURAL AND SECONDARY ROADWAYS THAT MAY NOT BE TREATED OVERNIGHT. DURING THE EARLY THURSDAY MORNING COMMUTE FOR WORK AND SCHOOL... THE WINTRY MIX WILL CAUSE SLICK SPOTS ON ROADWAYS... AS WELL IMPACTING SIDEWALKS AND BRIDGES.
PRECAUTIONARY/PREPAREDNESS ACTIONS...
A WINTER WEATHER ADVISORY MEANS THAT PERIODS OF SNOW AND SLEET WILL CAUSE TRAVEL DIFFICULTIES. BE PREPARED FOR SLIPPERY ROADS AND LIMITED VISIBILITIES... AND USE CAUTION WHILE DRIVING.
More Information
... A FAST MOVING WEATHER SYSTEM WILL IMPACT MAINLY SOUTHEAST MISSOURI TONIGHT THROUGH EARLY THURSDAY MORNING BRINGING A SMALL ACCUMULATION OF WINTRY PRECIPITATION TO THE AREA...
.A WINTRY MIX OF PRECIPITATION WILL MOVE OVER SOUTHEAST MISSOURI BEGINNING THIS AFTERNOON AND EXPAND EASTWARD OVERNIGHT. THIS MAY CAUSE TRAVEL PROBLEMS FOR PERSONS OVERNIGHT AND INTO THE EARLY MORNING HOURS ON THURSDAY.
Last Updated on January 08th 2014 by Dee Loflin
https://showmetimes.com/Blogpost/uqf7/Winter-Weather-Advisory-In-Effect