ShowMe Weather
January 05th 2014 by Dee Loflin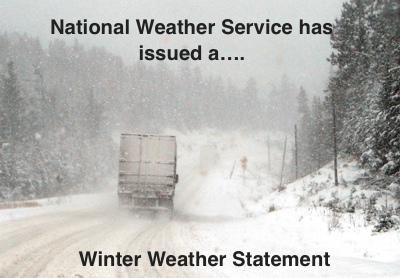 Submitted by
Dee Loflin, SMT Manager/Editor
Stoddard County, Missouri - The National Weather Service in Paducah, Kentucky has issued a Winter Weather Statement for our area..............MINOR ADDITIONAL ACCUMULATIONS OF SNOW WILL BE POSSIBLE THIS EVENING MAINLY EAST OF THE MISSISSIPPI RIVER AND NORTH OF A LINE FROM CAPE GIRARDEAU MISSOURI TO OWENSBORO KENTUCKY. THE BAND OF HEAVIEST SNOW WILL CONTINUE TO PUSH EAST ACROSS SOUTHWEST INDIANA.
FLASH FREEZING HAS OCCURRED ON AREA ROADS WHERE SUBSTANTIAL RAINS FELL EARLIER TODAY... ESPECIALLY ON BRIDGES... OVERPASSES AND SIDEWALKS. DRIVING AND WALKING CONDITIONS WILL REMAIN HAZARDOUS IN SOME AREAS WHERE FLASH FREEZING HAS OCCURRED OR WILL SHORTLY. TREACHEROUS TRAVEL CONDITIONS WILL CONTINUE AS WELL WHERE APPRECIABLE SNOWS FELL TODAY IN PARTS OF SOUTHEAST MISSOURI AND SOUTHERN ILLINOIS. BLOWING AND DRIFTING OF SNOW IS LIKELY IN THOSE AREAS. TRAVEL CONDITIONS WILL BE DANGEROUS ACROSS SOUTHWEST INDIANA THROUGH THE EVENING HOURS.
WIND CHILL TEMPERATURES ARE ALREADY IN THE SINGLE DIGITS TO NEAR ZERO. IT WILL ONLY GET COLDER THROUGH THE EVENING. WIND CHILL WARNINGS AND ADVISORIES ARE NOW IN EFFECT.
Last Updated on January 05th 2014 by Dee Loflin
https://showmetimes.com/Blogpost/uqel/Winter-Weather-Statement-Issued