ShowMe Weather
January 03rd 2014 by Dee Loflin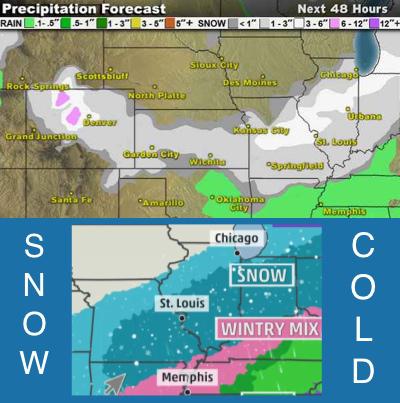 Submitted by
Dee Loflin, SMT Manager/Editor

Stoddard County, Missouri - The National Weather Service has in Paducah, Kentucky has issued a Special Weather Advisory for Stoddard County and surrounding counties.
WINTER STORM TO IMPACT THE REGION SATURDAY NIGHT AND SUNDAY... ... BRUTALLY COLD AIR TO FOLLOW MONDAY AND TUESDAY...
A POWERFUL WINTER STORM SYSTEM WILL SWING OUT OF THE SOUTHERN PLAINS SATURDAY NIGHT AND MOVE THROUGH THE LOWER OHIO VALLEY SUNDAY. A COLD FRONT WILL MOVE SOUTHEAST INTO THE AREA SATURDAY EVENING... AND THEN BRIEFLY STALL OUT NEAR THE OHIO RIVER SUNDAY MORNING BEFORE PUSHING RAPIDLY EAST OF THE AREA SUNDAY AFTERNOON.
WINTRY PRECIPITATION IS LIKELY TO BEGIN BEHIND THE FRONT LATE SATURDAY EVENING... AND THEN SPREAD SOUTH AND EAST OVER THE ENTIRE AREA BY DAYBREAK SUNDAY. THE PRECIPITATION SHOULD COME TO AN END AS PURE SNOW FROM WEST TO EAST SUNDAY AFTERNOON. AT THIS TIME... SIGNIFICANT SNOWFALL WILL BE POSSIBLE ESPECIALLY ALONG THE INTERSTATE 64 CORRIDOR. ELSEWHERE... THE PRECIPITATION IS LIKELY TO BEGIN AS RAIN OR A MIX OF RAIN... SLEET AND SNOW. HOW QUICKLY THE PRECIPITATION CAN CHANGE TO SNOW WILL BE PIVOTAL TO THE SNOWFALL TOTALS OVER THE REMAINDER OF THE AREA.
EXTREMELY COLD AIR WILL BEGIN TO SURGE ACROSS THE REGION SUNDAY... AND BY THE END OF THE DAY WIND CHILLS WILL LIKELY BE BELOW ZERO OVER MUCH OF SOUTHERN ILLINOIS. THIS WILL JUST BE THE BEGINNING OF THE COLD WEATHER.
AN ARCTIC OUTBREAK OF POTENTIALLY HISTORIC PROPORTIONS IS EXPECTED TO GRIP THE ENTIRE REGION SUNDAY NIGHT THROUGH TUESDAY MORNING. WIND CHILL VALUES ARE FORECAST TO RANGE FROM MINUS 10 TO MINUS 30 THROUGHOUT THIS TIME PERIOD. ACTUAL TEMPERATURES MAY STAY BELOW ZERO ALL DAY MONDAY IN SOUTHERN ILLINOIS AND SOUTHWEST INDIANA... AND ONLY REACH THE SINGLE DIGITS IN SOUTHEAST MISSOURI AND PARTS OF WESTERN KENTUCKY. THIS WOULD MAKE MONDAY THE COLDEST DAY SINCE EARLY FEBRUARY OF 1996... AND POSSIBLY THE COLDEST DAY ON RECORD. WITH THE SNOWFALL EXPECTED JUST AHEAD OF THIS ARCTIC AIR MASS... ANY TRAVEL PROBLEMS THAT ARISE WILL LIKELY LINGER THROUGH THIS PERIOD. EARLY PREPARATIONS ARE RECOMMENDED.
Last Updated on January 03rd 2014 by Dee Loflin
https://showmetimes.com/Blogpost/uqe1/Winter-Storm-to-Impact-the-Region