ShowMe Weather
March 05th 2014 by Dee Loflin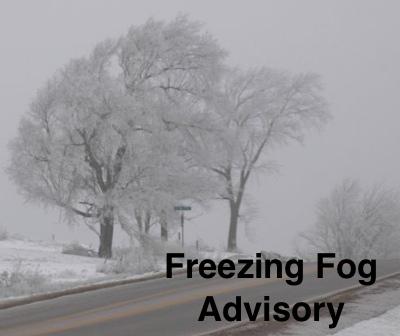 Submitted by
Dee Loflin, SMT Manager/Editor
Stoddard County, Missouri - The National Weather Service in Paducah, Kentucky has issued a Freezing Fog Advisory.
... FREEZING FOG ADVISORY IN EFFECT UNTIL 8 AM CST THIS MORNING...
THE NATIONAL WEATHER SERVICE IN PADUCAH HAS ISSUED A FREEZING FOG ADVISORY... WHICH IS IN EFFECT UNTIL 8 AM CST THIS MORNING.
* TIMING... FREEZING FOG WILL PERSIST UNTIL MID MORNING.
* VISIBILITY... VISIBILITY WILL BE ONE HALF MILE OR LESS IN MOST LOCATIONS.
* IMPACTS... FREEZING FOG WILL LEAVE A THIN GLAZE OF ICE ON MANY SURFACES. HAZARDOUS DRIVING CONDITIONS ARE EXPECTED DUE TO A COMBINATION OF POOR VISIBILITY AND ICE ON ROADWAYS.
PRECAUTIONARY/PREPAREDNESS ACTIONS...
A FREEZING FOG ADVISORY MEANS VISIBILITIES WILL FREQUENTLY BE REDUCED TO LESS THAN ONE QUARTER MILE. IF DRIVING... SLOW DOWN... USE YOUR HEADLIGHTS... AND LEAVE PLENTY OF DISTANCE AHEAD OF YOU. ALSO... BE ALERT FOR FROST ON BRIDGE DECKS CAUSING SLIPPERY ROADS.
AREAS OF DENSE FREEZING FOG EARLY THIS MORNING WERE BEING CAUSED BY A SOUTHEAST WIND FLOW OF MILDER AIR OVER SNOW COVERED GROUND.
Last Updated on March 05th 2014 by Dee Loflin
https://showmetimes.com/Blogpost/uqn2/Freezing-Fog-Advisory