ShowMe Weather
January 03rd 2014 by Dee Loflin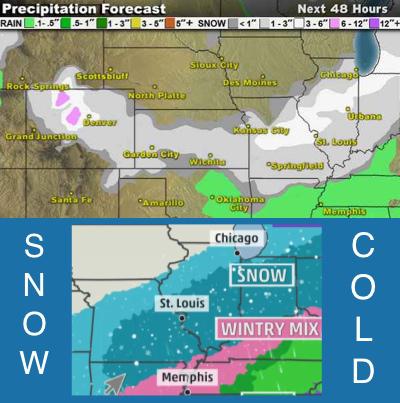 Submitted by
Dee Loflin, SMT Manager/Editor

Stoddard County, Missouri - The National Weather Service has in Paducah, Kentucky has issued a Special Weather Advisory for Stoddard County and surrounding counties.
WINTER STORM TO IMPACT THE REGION SATURDAY NIGHT AND SUNDAY... ... BRUTALLY COLD AIR TO FOLLOW MONDAY AND TUESDAY...
A POWERFUL WINTER STORM SYSTEM WILL SWING OUT OF THE SOUTHERN PLAINS SATURDAY NIGHT AND MOVE THROUGH THE LOWER OHIO VALLEY SUNDAY. A COLD FRONT WILL MOVE SOUTHEAST INTO THE AREA SATURDAY EVENING... AND THEN BRIEFLY STALL OUT NEAR THE OHIO RIVER SUNDAY MORNING BEFORE PUSHING RAPIDLY EAST OF THE AREA SUNDAY AFTERNOON.
WINTRY PRECIPITATION IS LIKELY TO BEGIN BEHIND THE FRONT LATE SATURDAY EVENING... AND THEN SPREAD SOUTH AND EAST OVER THE ENTIRE AREA BY DAYBREAK SUNDAY. THE PRECIPITATION SHOULD COME TO AN END AS PURE SNOW FROM WEST TO EAST SUNDAY AFTERNOON. AT THIS TIME... SIGNIFICANT SNOWFALL WILL BE POSSIBLE ESPECIALLY ALONG THE INTERSTATE 64 CORRIDOR. ELSEWHERE... THE PRECIPITATION IS LIKELY TO BEGIN AS RAIN OR A MIX OF RAIN... SLEET AND SNOW. HOW QUICKLY THE PRECIPITATION CAN CHANGE TO SNOW WILL BE PIVOTAL TO THE SNOWFALL TOTALS OVER THE REMAINDER OF THE AREA.
EXTREMELY COLD AIR WILL BEGIN TO SURGE ACROSS THE REGION SUNDAY... AND BY THE END OF THE DAY WIND CHILLS WILL LIKELY BE BELOW ZERO OVER MUCH OF SOUTHERN ILLINOIS. THIS WILL JUST BE THE BEGINNING OF THE COLD WEATHER.
AN ARCTIC OUTBREAK OF POTENTIALLY HISTORIC PROPORTIONS IS EXPECTED TO GRIP THE ENTIRE REGION SUNDAY NIGHT THROUGH TUESDAY MORNING. WIND CHILL VALUES ARE FORECAST TO RANGE FROM MINUS 10 TO MINUS 30 THROUGHOUT THIS TIME PERIOD. ACTUAL TEMPERATURES MAY STAY BELOW ZERO ALL DAY MONDAY IN SOUTHERN ILLINOIS AND SOUTHWEST INDIANA... AND ONLY REACH THE SINGLE DIGITS IN SOUTHEAST MISSOURI AND PARTS OF WESTERN KENTUCKY. THIS WOULD MAKE MONDAY THE COLDEST DAY SINCE EARLY FEBRUARY OF 1996... AND POSSIBLY THE COLDEST DAY ON RECORD. WITH THE SNOWFALL EXPECTED JUST AHEAD OF THIS ARCTIC AIR MASS... ANY TRAVEL PROBLEMS THAT ARISE WILL LIKELY LINGER THROUGH THIS PERIOD. EARLY PREPARATIONS ARE RECOMMENDED.
Last Updated on January 03rd 2014 by Dee Loflin
https://showmetimes.com/Blogpost/uqe1/Winter-Storm-to-Impact-the-Region
January 02nd 2014 by Dee Loflin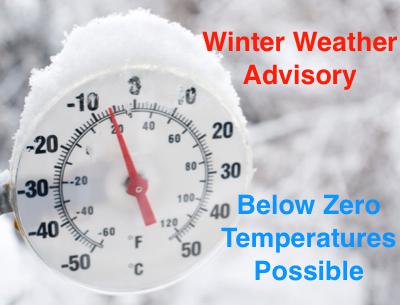 Submitted by
Dee Loflin, SMT Manager/Editor


Stoddard County, Missouri -
The National Weather Service in Paducah, Kentucky has issued a Special Weather Statement for Stoddard County and the surrounding areas.
.. BRUTALLY COLD WINTER STORM COMING IN LATE THIS WEEKEND...
GET READY FOR ANOTHER WINTER STORM... AND THIS ONE WILL BRING BRUTAL ARCTIC COLD NOT FELT HERE FOR YEARS. THIS SYSTEM COMES IN SATURDAY NIGHT AND SUNDAY WITH SNOW... OR RAIN CHANGING TO SNOW... THEN THE BRUTAL ARCTIC COLD COMES IN SUNDAY NIGHT AND MONDAY.
WE ARE TALKING ABOUT TEMPERATURES GOING BELOW FREEZING SUNDAY NIGHT... AND STAYING BELOW FREEZING FOR THE REST OF THE WEEK. AND NOT JUST BELOW FREEZING... BUT WAY BELOW!
HIGH TEMPERATURES ON MONDAY AND TUESDAY... THE COLDEST DAYS OF THE WEEK... ARE FORECAST IN THE SINGLE DIGITS AND TEENS. LOW TEMPERATURES DURING THIS TIME WILL BE NEAR ZERO OR EVEN IN THE NEGATIVE NUMBERS. ADD A LITTLE WIND TO THESE TEMPERATURES ON MONDAY AND TUESDAY... AND YOU HAVE WIND CHILL READINGS FROM MINUS 10 TO MINUS 20 AT TIMES.
A LOOK AT THE RECORD BOOKS SHOWS YOU HAVE TO GO BACK TO THE WINTER OF 1995-1996 FOR COLD OF THIS MAGNITUDE. STORM REPORTS REVEAL A HISTORICAL PERSPECTIVE THAT WE WOULD DO
WELL TO REMEMBER THIS TIME AROUND... SO LET'S LOOK BACK AT SOME OF THE THINGS THAT HAPPENED THEN WHEN A SIMILAR SYSTEM HIT THE AREA:
*SCORES OF PEOPLE WERE DEALING WITH DEAD CAR BATTERIES
*NUMEROUS WATER LINES BURST... BOTH IN HOMES AND EVEN MAIN TOWN SUPPLIES
*OVERWORKED FURNACES RESULTED IN OUTAGES
*NATURAL GAS SHORTAGES WERE REPORTED DUE TO DWINDLING SUPPLIES FROM PROLONGED COLD AND THE FREEZING UP OF GAS WELLS IN SOME LOCALES
*LOCAL POWER COMPANIES SET ALL TIME USAGE HIGHS
*HOUSE FIRES RESULTED AS SOME TRIED TO THAW THEIR PIPES
*ICE JAMS ON RIVERS... WHICH CAUSED BARGE TRAFFIC TO BACK UP AND EVEN CAUSED THE MISSISSIPPI RIVER TO RISE FURTHER SOUTH DOWNSTREAM. WHEN THE ICE BROKE DAYS LATER... MANY BARGES BROKE OFF THEIR MOORINGS AND HAD TO BE ROUNDED UP BY THE COAST GUARD. IN ADDITION... RIVER NAVIGATIONAL AIDS WERE DISPLACED OR DAMAGED BY THE ICE.
IT WOULD SERVE US ALL WELL TO REMEMBER THIS HISTORY... AND TRY TO TAKE THE NECESSARY PRECAUTIONS NOW TO BE PREPARED FOR ANOTHER SIMILAR BRUTALLY COLD OUTBREAK. IT IS POSSIBLE THAT THIS SYSTEM WILL ALSO PRODUCE SIGNIFICANT SNOWFALL... ALTHOUGH THAT IS STILL TOO EARLY TO SAY FOR SURE AT THIS TIME.
PREPARE NOW BECAUSE BARRING A MAJOR CHANGE TO THE FORECAST... THIS COLD IS COMING!
Last Updated on January 02nd 2014 by Dee Loflin
https://showmetimes.com/Blogpost/uqe0/Weather-Advisory--Frigid-Temperatures