ShowMe Weather
September 10th 2014 by Dee Loflin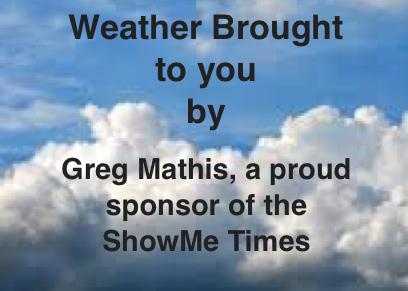 Wednesday

Weather brought to you by the Greg Mathis. Greg is running for County Commissioner and is a proud sponsor of the ShowMe Times.

Wednesday morning will be partly cloudy with temperatures steady near 75F. Winds S at 5 to 10 mph.
Temperatures will rise to 93F with intervals of clouds and sunshine. Winds SSW at 10 to 20 mph.
Sunset 7:15 p.m. Tonight chance of rain 90%. Thunderstorms likely with a low 71F. SSW winds shifting to NW at 10 to 15 mph.
Last Updated on September 10th 2014 by Dee Loflin
https://showmetimes.com/Blogpost/usmd/Weather-for-Wednesday-September-10-2014